Welcome to the historic inventions page. On this page, I will highlight some of the inventions from years gone by. Many were first published prior to December 1964, and are therefore no longer covered by US copyright laws which allow me to publish them on this page. 
Air Canopy Protects Tractor Driver
July 1963…

Air canopy protects tractor driver. An air curtain shields British tractor and combine harvester operators from dust, chaff, and insects in the field, making goggles or special clothing unnecessary.

A fibreglass dome over the open cab has a built-in fan that blows a sheet of encircling air through a gap at the rim. The canopy also protects the driver from sun and light rain.
A Talking Notebook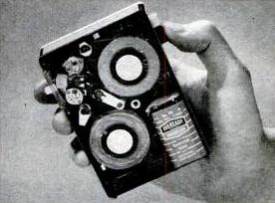 May 1963…

A talking notebook… A tiny tape recorder only a little bigger than a pack of cigarettes records up to an hour on one re-useable, indexed, reel of tape.

A built-in microphone in the Memocord lets you record interviews or notes without external wires. It uses one nine-volt battery and one 1.5 colt penlight cell.
ATM Machine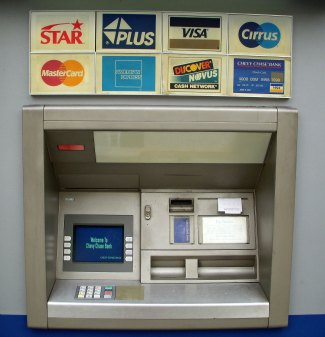 Automated Teller Machines (ATM's) are also known as automated banking machines or cash machines or cash points or even the hole in the wall!

ATM's are electronic telecommunication devices which are interfaced directly with the banks in order to enable banking customers perform financial transactions such as withdrawals, deposits and balance inquiries.

The customer performs transactions on the ATM by inserting a bank card which contains a magnetic strip and often a smart chip too that the ATM reads when inserted into the machine. A personal security pin is entered by the customer to identify the customer with their bank account.

Without ATM machines we wouldn't have 24-hour access to our money and we would have to wait for banks to open on Monday-Fridays between 9-5 and wait in ridiculously long queues.

They also have an added advantage of saving costs for the bank as they provide services to the customers that would have previously been performed by a bank clerk employed by the bank.
Bugs Make Juice To Run A Radio
July 1963…
Bugs make juice to run a radio. Now you can buy a battery that harnesses the energy of millions of harmless bacteria to produce enough electric current to run a small transistor radio.

The biological fuel cells are available as a kit that makes a battery of twelve cells, delivering about forty milliamps at six volts.

The experimental kit has twelve plastic containers filled with powdered brown rice husks. Bacteria, feeding on the husks create an electric potential between two electrodes in the mix. Occasionally adding water keeps the cell going.
Copying (Xerography) – 1938
by Horace Wong
(Hong Kong)
Photocopying is done by a machine that can make copies of paper documents and other visual images. They typically do this using a standard copying process called xerography which uses electrostatic charges on a light-sensitive photoreceptor. The photoreceptor attracts and then transfers powder toner particles onto the paper exactly representing the image being scanned.

The toner is then fused to the paper using either pressure or heat or a combination of the two. Many organizations widely use photocopying however more and more so it is being displaced by digital scanning and transmission and storage of documents in electronic form.