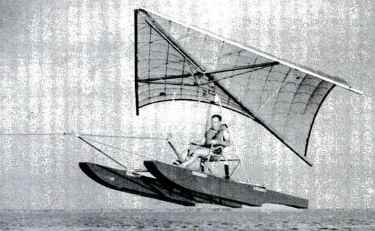 July 1963…

New boat can either fly or sail. Towed by a powerboat, this craft takes to the air under its flex-wing sail.

On its own with the wing tilted to catch the breeze, it sails like a catamaran. A plane type stick controls the wing in flight; rudder pedals steer the boat on the water.

Flight Dynamics, Raleigh, N.C., designed it with two skis mounted on an aluminum-pipe frame.