Welcome to the creative ideas section of the website. The notion of such can be extended to all areas – science, art, business, etc.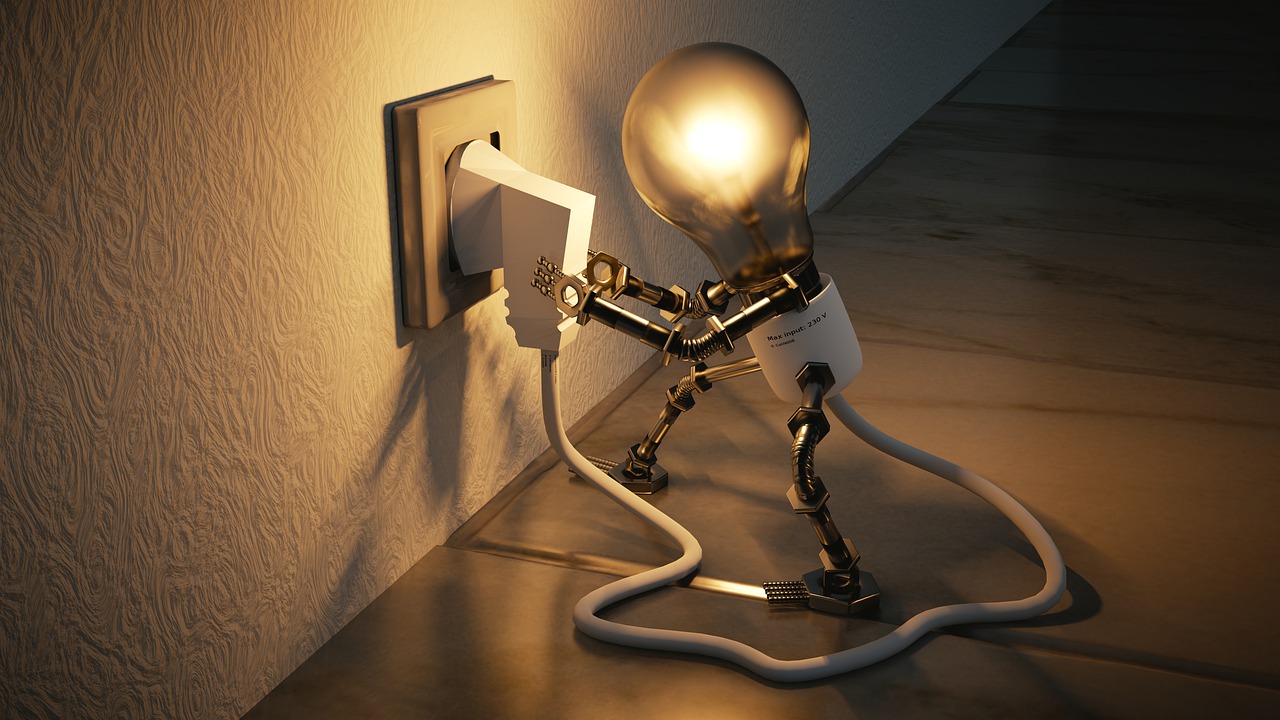 Image by Colin Behrens from Pixabay
It is often thought of as a light bulb turning on or that aha moment.
It's About…
breaking from the past and seeing new ways to old problems.
pushing beyond routine and trying new approaches.
asking why not but also it's about realizing that usually there is a good reason why not.
From a business perspective it means considering profit and loss and legal and ethical issues.
Often Happens Subconsciously
The subconscious mind can be a key driver towards such aha moments.
Outside of conscious awareness mental activity continues which is why ideas often come to us via daydreams, or after a good night's sleep. 
There are a number of stages of creativity which provide clarification and structure of the mental and physical states that an individual experiences in the idea creating process.

We're All Capable
Everyone is capable of creating new ideas and often it is simply the process of taking an existing idea and building upon it.
Dr Robert Epstein a leading researcher on creativity highlights that as individuals we are constantly generating new and novel behaviours.
Each day, we formulate different sentences when we speak, we brush our teeth a slightly different way each morning and we keep having new thoughts and dreams.
This novel behaviour is only labelled creative when it adds some special value to the community.
Ideas often occur by combining two or more elements of knowledge together. If the resulting combination could add value to someone or something then the idea can be labelled an innovation idea. 
Record Your Ideas
It is important to record all of the ideas that you have. Thomas Alva Edison recorded and illustrated every problem he worked on in a notebook.
He used his notebooks to review past experiments in light of any new learning's and often he would review his notebooks to try and provide new ideas and insight to other projects that he was working on.
Edison would also record observations of the natural environment and he would read others creative ideas, research papers, failed patents and ideas from other fields. 
Seek Out Problems
Keep on the lookout for problems within your workplace. Which problems are your biggest, most urgent? These could also be your biggest opportunities. Get your creative juices flowing and start working on some creative solutions today. For some structured assistance check out creativity techniques.
Go For Quantity
When generating creative ideas go for quantity. Try and generate as many ideas as you possibly can. Don't worry about stopping to evaluate them, you can do that a later point.
Your Creative Ideas
Below are creative ideas submitted by readers of innovation-creativity.com. Have an idea that you'd like to share on this site then please let me know by filling out the creative ideas form further down this page. 
I review all ideas submitted and publish them to the site as soon as I can.
Readers' creative ideas…
Almost all industries require reliable mechanisms with stepless change of transfer functions.The creation of such a mechanical device, which is independent, depending on the moment of resistance at the exit, changes its transmission ratio within( 1 ≤ I ≤ ∞, сapacity transfer isn't limited) resolves many problems of the machine industry and can lead to […]
Excellent Creative Ideas From The Past
One great way to assist in getting creative ideas is to read through other people's ideas. 
Some of the ideas submitted below are ideas that people put forward prior to December 1964, the ideas are no longer covered by US copyright laws which allow me to publish them on this page. Some you will find are no longer relevant due to new and improved technologies. Others, however, are either great ideas that have never been implemented or conversely ones that are now in everyday, regular common use.
There are ideas for hand warming snow blowers, transparent fuel tanks to enable you to see how much gasoline you have left, edible toothpicks and even flame-throwing ice removers, plus many more.
Take a look – you never know they might spark your imagination for an excellent new idea.
October 1963…A fold-up stand that could be spiked and strapped to a tree trunk might make life more comfortable for hunters, nature photographers, and other outdoorsmen. This one would collapse into a flat pack, and the tree-girdling belt would convert to shoulder straps for easy carrying.
December 1963… When a puppy forgets who's boss in the family, a high-pitched whistle in his collar or harness might remind him painlessly to pay attention to a command. A tube would connect the whistle in this training leash to an air bulb near the handle; to signal, you'd give the bulb a squeeze.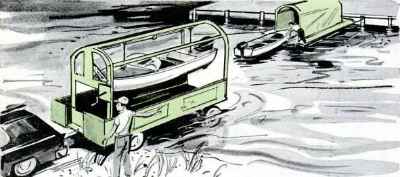 June 1963…Trailer doubles as boathouse.With this amphibious carrier, you could trailer a winched-up boat to the water, let down the pontooned side panels (which serve as walkways), and lower the boat directly into the water.The trailer would serve as a floating dock in boating season and when covered would act as a boathouse during the […]
June 1963…Traffic-light viewer is a reflector too.This overhead-traffic-light viewer has another job too: Its front face, of colored glass, would reflect back the headlights of oncoming cars to indicate to their drivers your car's width – useful if one of your headlights burns out.A lens at the top would pick up overhead traffic lights.
May 1963…Never worry about not having enough space in your suitcase again with this suitcase that grows with the load.Add-on sides that could be carried folded inside this suitcase would let you increase luggage capacity as you needed it.Zipper tracks around the main case would engage tracks on the add-on units. Long loops on the […]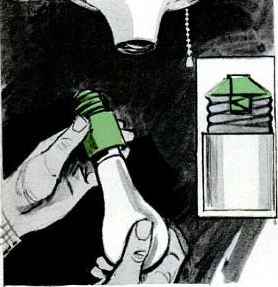 July 1963…Socket extends bulb life.Inserted between an ordinary bulb and socket, this adapter would lower circuit voltage (through a resistance wire in the tip) so bulbs would last much longer than they do now.It would also cut illumination slightly, but you'd make up for this by using a bulb with a higher wattage rating.
November 1963…A delivery van or other truck might carry a bigger load in better order on this slide-out platform. The simple mechanism, similar to a file drawer in operation, would eliminate the need for walk-in space, simplify loading and handling of the cargo, and make any part of the load accessible in any order.
An idea from July 1963 for a screw-in drain plug for a remote outboard tank.Sloshing that last left-over pint of gasoline out of the inch hole at the top of the can is not the easiest of tasks.A drain plug at the bottom is a simple and effective solution.by H Anderson(Cassopolis, Michigan)
June 1963…This rake handle yardstick can help you space your plants accurately.To create your own, paint narrow rings around the rake handle six inches apart and mark the one-inch and two-inch spaces.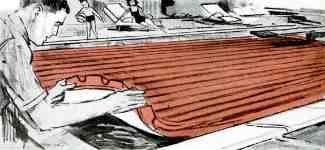 September 1963…This pool cover with air pockets might extend the swimming season far into the fall. One side of the plastic mattress would be covered with a dark film to absorb solar heat and transmit it to the water. The light-colored heat reflector on the reverse side would help cool the water in the summer.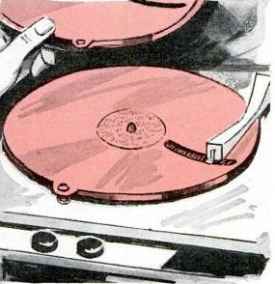 June 1963…The play-through cover protects your vinyl record. You wouldn't have to worry about damaging your records if they were enclosed in these permanent jackets.After placing the cover-protected disc on the turntable, you'd insert a pin, to keep the jacket from turning, and engage the stylus through a slot. The record would turn on a […]
August 1963…You could convert your prescription eyeglasses to sunglasses by pressing on these shields made of plastic film that clings to surfaces electrostatically but peels off. Unlike clip-on sun lenses, the tinted film would not weigh your frames or affect the optical properties of the eyeglass lenses.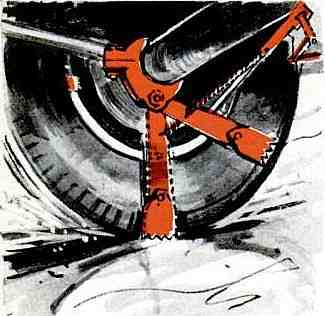 December 1963…This axle-mounted claw arm would let you start on ice by moving an inside-the-car lever. It would engage a lug on the arm with one on the wheel rim, moving the wheel and claw together. At the end of its arc, the spring-retracted arm would slide free, return to rest, or reengage the wheel […]
November 1963…Let down during the day, this hinged, adjustable, foam-padded bed extension would give you extra floor space in a crowded room, say, or a den-guest room. Raised, it would extend the bed to a comfortable sleeping length. Pulled up, it would prop a pillow for comfortable reading.
November 1963…With this versatile woodworking tool, you could saw, plane, or sand, going from one to the other with only the simplest adjustment: moving the handle around to one of the tool's three sides. Locking the handle in place would automatically engage the drive shaft with the idler of the selected tool.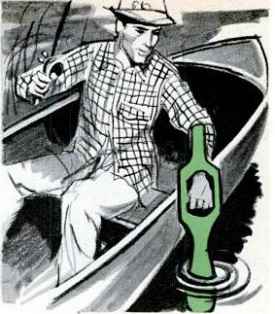 July 1963…One-hand oar lets you fish. An oar designed for one-hand use might let you keep a boat on course or even propel it a short distance without limiting the freedom of your fly fishing hand.This shortened oar would have a hand grip across the widened shaft and would narrow at the top into a […]
A sliding plant stand would be built into a window. You would push it outside so the plants could get an airing when the sun is warm. By Deborah Johansen, Nelsonville, New York.September 1962
This plastic foam-filled pad would be shaped to fit a standard bathtub so you could soak out muscle pains in comfort. It would be thin enough to fold for storage.By Mike Patterson, Dallas.September 1962
Chuck keys for hand drills on a recoil cord housed inside the tool would mean that the cord would not tangle in the drill and the key couldn't be mislaid. By John Overby, Osburn, Idaho.September 1962
Have a perfectly level camping table on rocky ground with the no-rock camping gear table. It would have telescopic legs just like those on a camera tripod. you would lock each leg at the right height so the equipment would stand level on bumpy or sloping ground.By Skip Mosher, Rialto, California.September 1962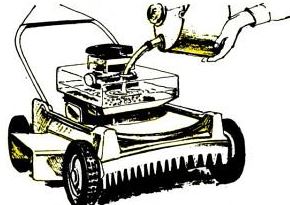 Transparent fuel tanks on power lawnmowers so you could tell at a glance how much gas you had left instead of running dry in the middle of the lawn. By Sam Gainer, Austin, Texas.
Book matches with pressure adhesive on the back. Then you could stick the folder to the cigarette package and it would never be mislaid. By Clarence Brady, San Fernando, California.September 1961
Socket-wrench extensions with knurled ends permit easy spin-off of loosened nuts, even though the tool and your hands might be oily. By J.I.Mitchelle, Horseheads, N.J.September 1961
Changeable glue spouts for squeeze bottles. One wide-spread, one needle-nosed, and one regular would take care of a variety of gluing jobs. By Terry Dawson, Manhattan Beach, California.September 1961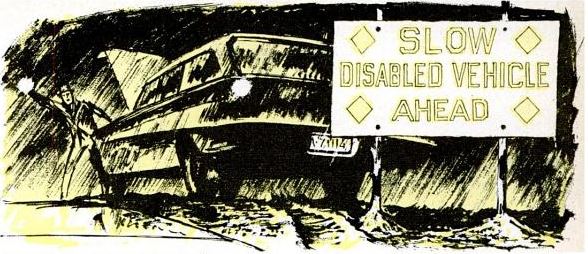 Double-life shipping cartons for gas-station supplies. Per-printed with signs in fluorescent ink, they could be given to customers when empty.By A.J.Preuss, Campbell, California.September 1961
Easy to pull tubes for radios and television sets. A thumbprint impression on each side of the glass envelope near the top would give you a better grip. By C.E.Harris, Odessa, Texas.September 1960
A currycomb attachment for the vacuum cleaner. A few passes with this and you could rid a household pet of loose hairs or burrs. By Mrs. Winifred Maker, Douglas City, California.September 1960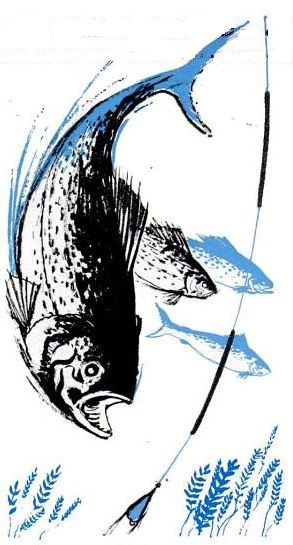 Varicolored fish line with a color change every so many feet. Then it would be simple to tell approximately how much line had been reeled out.By Peggy Kaluz, Marquette, Mich.September 1960
A thin, magnetized plate to slip under the cellophane wrap on cigarettes so that you could toss the pack on top of the dash of your car and keep it firmly anchored. By E.L. Enochs, Glendale, California.September 1960
An aluminum sawbuck that would support a chain saw as well as cradle the log. A sling arrangement would allow the saw to swing as necessary. By David Hogg, Westford, Mass.September 1960
Vacuum-packed safety matches. Packed in the can head down, with a striking surface inside the lid, matches would remain safe, dry, and rodent-proof. – Ray Shoberg, Milwaukee. Rodents ate safety matches back in the 1950's? September 1959 When it comes to safety matches, there is no better option than those that are vacuum packed. Vacuum […]
Camouflaged cookie boxes. Labeled "macaroni" or "dried beans" maybe then the goodies would stay around long enough for your Dad to get a hand in the box! By James Martin, East Orange, N.J.September 1959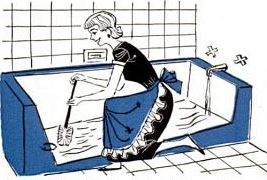 A bathtub with its drain at the end opposite the faucets. With the water running the length of the tub, it would be simpler to clean and rinse it. By John Cronn, North Platte, Nebr.September 1959
A flexible trouble lamp. A magnetic baseplate would conveniently cling to any part of the car to shed light without glare on the job at hand.By Chas. Omartoucheski, Linden, N.J.September 1959
A double-use trailer. In winter, you'd park it over a foundation, slide out the chassis and pull out a weatherproof seal from the trailer to the house door. By A.Dorman, Everett, Wash.September 1959
A fan attachment for a frill press to blow the chips away. A vaned cylinder that could be attached over the chuck should do the job.By Bill Corney, Dearborn, Mich.September 1958
Illuminated electric razors. Built-in lights would make it a lot easier to get a clean shave in bathrooms where the only lighting is overhead.By H.L.Linenberger, Bastrop, TexasSeptember 1958
A horizontal tire rack beneath the car so the spare would serve as a pneumatic bumper. To free the tire, you'd unlock the rack and slide it out. By E.L.Gallini, Springfield, Mass. September 1958 While I think the tire as a kind of pneumatic bumper is a great idea in itself, it's not the best-looking […]
Short-range radio sirens on fire trucks and ambulances. A howling signal transmitted over car radios would override loud-playing programs.By Bob Dupwe, Russelville, Ark.September 1958
This idea for collapsible lampshades would be ideal for families that frequently move long distances. Lamp shades take up lots of packing space and are easily damaged. – Lt. Col. C.M.Busbee Jr., San Francisco
An idea for ironing on buttons on clothing. Adhesive tabs on the back would slip through grommet holes. When ironed flat, they'd be waterproof and unaffected by cleaning.By J.J.McGraw, New York City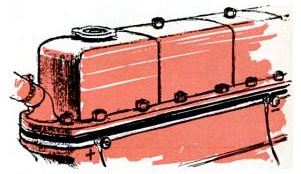 This is an idea for asbestos cylinder gaskets with thermocouples to supplement car generators. The hot junction would point to the cylinder and the cold junction to the water hole.By J.V.S. Murty, Visakha Patnam, India.I doubt that anyone would recommend using asbestos for anything these days!
A quick locking dog collar would eliminate the struggle to get it on. The fastener would slide together and lock as some belt buckles do.By Clark Thompson, Corona del Mar, California
This is an idea for postage meters on street corners so you could stamp a letter by dropping in a coin. Larger boxes could incorporate a postcard dispenser too.By Lon Calhoun, phoenix.
Built-in storage in automatic washers to house soap box and bleach bottle. There must be some extra space under that glossy housing. By Elena Echavarria, Medellin, Colombia.
Mattress flippers built into beds. Few women wrestling with a mattress for a double bed succeed in turning it over without calling for helpBy H.J.Graw, Brooklyn, New York.
Pistol grip handles on the burners of propane torches. A trigger valve would control the flame. Then long jobs would be easier on your hand.By Andrew Vena, Philadelphia.
Tamperproof gas tanks with a screen guard in the inlet pipe, set low enough to insert the fuel hose, but too high for a thief to siphon off the gas. By Tom Whipps, Columbus, Ohio.
A fruit pickers bag or basket with a sleeve-like extension. Just drop the apples or other fruit down into the chute clipped to your arm.By Louis Burzdak, Los Angeles.
Flat appliance cords for outdoor equipment. With adhesive on one side, they'd stick to a wall or patio floor, be much safer, and look neater.By Rich and Hughes, Pompano Beach, Fla.
Ornamental shutter latches of black plastic instead of wrought iron. They wouldn't rust and streak stains over the siding as metal ones do.By J.E.Weber, Chevy Chase, Md.
This is an idea for thermos-bottle girdles made out of hard rubber. Slipped over a bottle, they'd add corners to keep it from rolling off a table or bench and smashing the lining.By F.M.Scott, Leonia, N.J.
A power-driven vibrating brush for removing old wallpaper that has been painted over or is otherwise stubbornly unaffected by soaking.By Ralph T. Stewart, Winston-Salem, N.C.
A split lid for car trunks. If hinged at each side, the trunk would take much bulkier items, or with a canvas enclosure, form a box bed.By Starr Moshier, Rochester, New York.
Brakes on mechanics' creepers. With wheels that could be locked, you wouldn't roll with every little movement while working underneath a car. By Dale Wilhite, Milan, Ill.
A gutter cleaner for ranch houses. A hooked wand on a portable vacuum cleaner would blow away leaves as you walked the length of the low gutter. By D.Barrett, Wayne, N.J.
Threaded arrow shafts to accept different types of arrow tips. This would eliminate the need to purchase an assortment of arrows for various games. By V.J.Daczynski, Bayside, New York.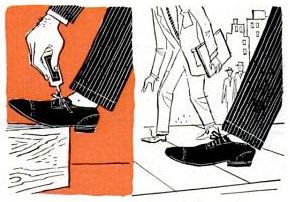 A shoelace that stays tied. Why not impregnate the lace where the knot falls with a small amount of abrasive, or coat it with a no-slip compound?By Jack DeMent, Portland, Ore.Might be a tad difficult to get the shoe off!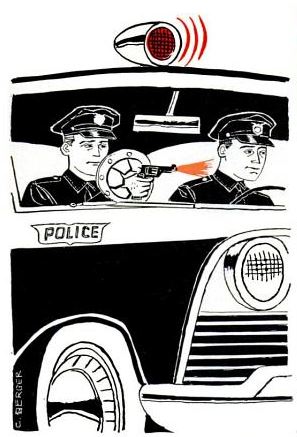 Windshield gun ports on police cars. Shooting with an arm thrust forward through this opening would be more accurate than leaning out of an open window.By J.F.Adams, Scranton, Pa.Does shooting from cars still happen? It all sounds a bit dangerous to me!
Flexible signposts with a stiff steel spring in the base. Then the post would give under impact instead of snapping off or permanently bending.By Andrew Vena, Philadelphia.
A collapsible colander. When not in use, this kitchen utensil would shrink to a fraction of its opened size, requiring little storage area. By Mrs.I.G.Aylward, San Jose, California. You can purchase a collapsible colander from Amazon
Plywood edging you could tap in place. You would cut this brass channelling, sold by the foot, at a 45-degree angle and fit it on for a decorative finish.By J.C.Klar, New York City.
No-fumble phonograph records. They'd have a clear plastic ring in the center through which you could see the spindle to drop a record in place. -By Thomas Duff, Lock Haven, Pa.
A track-riding rear-view mirror with a swivel mount. It could be shifted to the right or left if a passenger's head blocked out the rear window. By C.T.Rice, Vero Beach, Fla. You can purchase a rear view mirror on Amazon, however I couldn't find one with this track riding idea!  
To form downspouts around complex roof overhangs you could use this idea for flexible rain-spouting. The tubing would be made out of something similar to that what you can see on gooseneck desk lamps.By Ken Clayton, Columbus, Ohio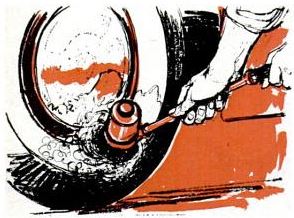 Wire bristled whirling brushes would be ideal for cleaning white-walled tires. Simply put cleaning solvent in the special compartment and whirl away – no elbow grease.By A.C.Orenstein, Philadelphia, Pa.
Having arrows displayed on left handed nuts would point the direction when removing them and prevent stripping threads and wasting time. Think of the tempers they would save!By Richard Soeldner, Plain, Wis.
These pull-string openers are a great idea for boxed food such as frozen food packages. You simply pull the string and tear the paper sealing the box of food to open it and slide out the contents.By L.M.Gardener, New York City
These futuristic beds would act like baby incubators to keep you at your individual perfect sleeping temperature. They would have controls for heating in the winter and cooling in the summer months. No daily bed-making would be required. Just simply cover it during the day with a spread.By H.J.McGraw, Newark, New Jersey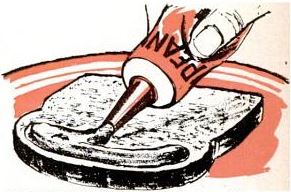 This is an idea for tube-packed peanut butter that you could squeeze out like toothpaste. This way you could spread it easily on a sandwich without tearing the bread apart. By Ross Sloat, Goshen, Ind. You can purchase peanut butter in a tube from Amazon
Recessed outlets with plugs keyed for insertion. Flush with a wall, plugs would be less noticeable and would interfere less with furniture. By A.R.Shulman, Wantagh, N.Y. You can purchase recessed outlets from Amazon
Chimney pockets for TV antennas. A vertical row of L-shaped bricks with holes in jutting ends would do it. Align the holes to form a socket. By Ray Moore, Wellsville, Ohio.
A sliding pass-through counter between the kitchen and the dining room would mean that you could load from either side and slide the section through on tracks. A.C.Dumont, Hackensack, N.J.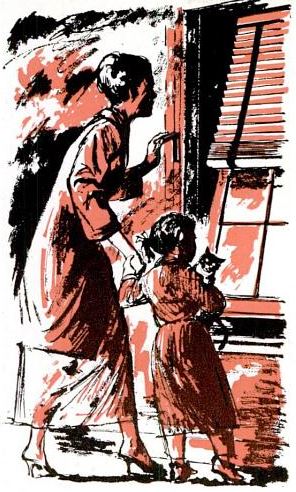 A dropout window like the emergency door in a bus on each side of your house would fall out for a quick fire exit.By R.A.Shaw, Ardsley, New York.
Illuminated Dustpan Brushes with a flash-light cell pocketed in the handle. Then the user could see in dark closets and under low furniture. By Fred Lettino, Long Island City, New York.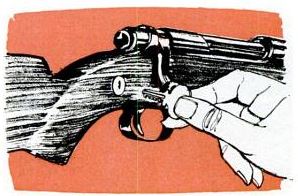 Rifles that lock so they couldn't be loaded, cocked, or fired. A key-operated device would keep the bolt or other firing mechanism from being moved.By F.E.Martz, Calverton, New York.
No-squeeze caulking guns powered by gas cartridges. In winter, when the compound is cold and stiff, it takes a strong hand to operate the hand lever. – Andrew Vena, Philadelphia
Easy-out wood screws for the jobs around a shop that calls for a temporary fastening. A wing-nut head would be just the thing for quick removal. By S.N.Strensic, Fort Lauderdale, Fla. Wing Bolts You can purchase wing bolts on amazon but I couldn't really find any wing screws. Removing Stuck Screws A better option to […]
A car-trunk hatch hidden away in the back of the rear seat would enable you to reach into the trunk from inside the car to get small personal articles. You would just lower a center armrest. This would expose a sliding door that you'd unlock with a key. By Stewart A. Collins, Hackettstown, N.J. You […]
Paint for use over fresh plaster that would speed up decorating of new homes by eliminating the curing period or use of a neutralizing wash.By J.P.Smith, Chicago.
More storage in cars. A bin in the backrest of the front seat could open into the rear passenger compartment and would use space now wasted.  By L.E.Cottingham, Philadelphia. Smoking in a car full of kids is not a good idea! Not sure about more storage but you can purchase a storage organiser from Amazon […]
A twist-drill sharpener that works like a pencil sharpener. Insert a drill, turn the handle and the tool would be sharpened in a hurry. By Robert LeBoeuf, Salem, Mass. Making that lovely metal against metal noise! November 1959 You can buy drill bit sharpeners on Amazon…
Easy-fill cigarette lighters with a spring and check valve in the bottom. Pressure of the fuel-can tip would push aside the ball normally sealing the opening. By J.Netzel, Tacoma. November 1959 You can purchase modern-day refillable lighters from Amazon.
A dust mop cleaner to eliminate shaking mops outdoors. By W.N.Saha, Syracuse. November 1959 These days you would probably choose a micro fibre mop such as these from Amazon…
A stapling gun for office papers that would form its own staples from wire fed from a roll. Then you wouldn't have to reload it so often. By Ronald K.Hering, Madison, Wis. November 1958 You can purchase a traditional staple gun from Amazon…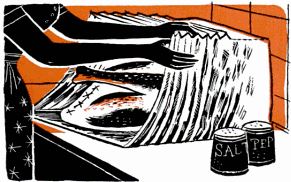 Jumbo aluminium-foil bags for turkeys. Wrapping a 20-pound bird in foil for roasting is a big job and the sheet is difficult to seal. The foil needs to be thick enough to stand up to being used for roasting but not so thick that it doesn't allow heat through to the meat. By Mrs J.Mihalick, […]
A carbon monoxide indicator. An adhesive-backed button to stick on the dashboard. It would change color to warn you of gas inside the car. By Mrs L.Koslover, Watertown, Mass. November 1958 You can purchase carbon monoxide indicators on Amazon…
Flares in shotgun shells for use by lost hunters. They could be fired so they'd burst high above the treetops and burn out before hitting the ground. By Bob Mulhollan, New Orleans. November 1958 Alternatively, you could just purchase a visual distress signal from Amazon!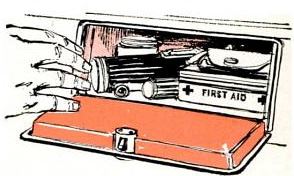 Padded glove compartments in cars. A plastic foam-backed liner would keep hard objects from rolling so readily and rattling against the metal sides. No more rattling on a long drive and disturbing everyone's sleep. By Art Tussey, Richmond Va. May 1963 I couldn't find anything to make your glove box padded but I did find this […]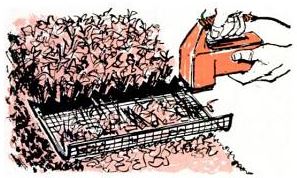 A clipping catcher for my electric hedge trimmer. It would eliminate the bother of raking up and picking bits and pieces out of the hedge. By R.M. Woodbury, Natick, Mass. May 1963 The only clippings catchers that I could find on Amazon were ones for trimming beards! 🤣
An angle jig for use with electric hand drills. The arms would telescope as the bit entered the work; graduations would indicate the depth drilled.By R.Knudson, Hanover, N.H.May 1963 You can purchase a modern-day angle jig from Amazon…
Easy-to-handle-fishing gear – fishing net, boat hook, and gaff designed as snap-on heads so that you could use them all with a single pole. Idea by Anthony J Santoro, Farmingdale, N.Y., May 1963 What is a fishing net and when was the first recorded invention? A fishing net is a device used to prevent fish from swimming […]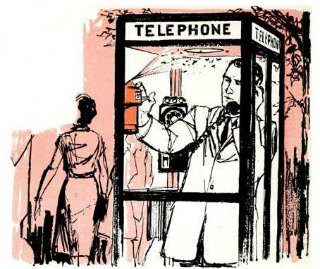 Bug bombs for phone booths that would spray at the drop of a coin. I'd gladly spend a penny to get rid of insects drawn by light at night. By C.Petzold, Runnemede, N.J. May 1963 You can purchase your very own bug spray from Amazon…
This is an idea for a chemical hardener for an earth fill. You could pour it into a double-walled blow-up mold and make an adobelike shelter. By F.M.Scott, Leonia, N.J.May 1962
Windproof cigarette holders for convertible owners. This idea for a funnel-shaped holder with side vents and a lid might slow the combustion when driving along with the roof down to that of a normal smoke. By G.Nattboy, Brooklyn. May 1962 You can buy cigarette holders from Amazon, pretty sure that they're not wind proof though…
Road maps could be placed on microfilm with a tiny viewfinder built into the dashboard of the car. Only a small area of the map would need to be viewable on the screen. By G.A.Mayerchak, Brooklyn Park, Minn. May 1962 These days, you would no doubt use a GPS system instead, such as these available […]
A cooking pot designed for both left and right-handed people. Simply by adding pouring lips to both sides of a cooking pot would make it easy to use for both right and left-handed people. By Marjorie Hill, New York City. May 1962 A cooking pot that could function with either right- or left-handed people. This […]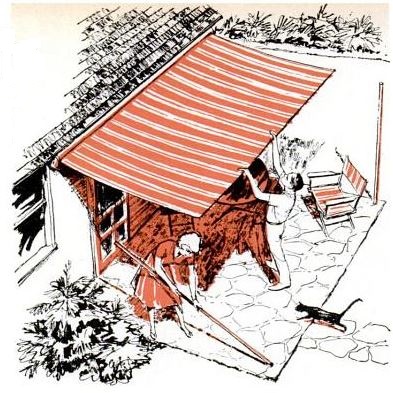 A roll-up patio roof housed in a rustproof cylinder. In the summer, you would mount it on a house wall, pull it out, and prop it up. In winter you would be able to lift it completely off for storage. By W.E.Seiler, Lutherville, Md. May 1962 You can purchase motorized sun shades from Amazon…
Small water pumps for pipes leading to a shower or a garden-hose faucet to keep the pressure constant if the water is drawn elsewhere in the house. By Kurt Alverson, Tonawand, New York. May 1961 You can purchase small water pumps on Amazon…
Pipe caps, in both pointed and flat-end designs. Hammering a flat one would drive pipe under a sidewalk to carry cable for outdoor wiring.By Steve Hullcranz, Oak Park, Ill.May 1961
Indent notches at either side of automobile hubcaps. The pesky job of prying off the caps with a tire tool would sure be a lot easier.By Edward Podalske, Crystal Lake, Ill.May 1961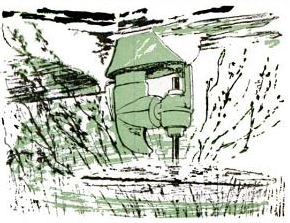 Underwater weed cutters you would attach to an outboard motor with its prop removed. They'd work a bit like a rotary lawn mower while you rowed the boat. By A. Malinick, Thornwood, New York. May 1961 The most obvious application for the new underwater weed cutter is, of course, fishing! When you cast your line, […]
Lunch-counter stools that could be slid in-floor slots to adjust the distance from the counter would enable both fat and thin folk to enjoy their food in comfort. By Patrick Hall, Fort Smith, Ark. May 1961 You can purchase your very own adjustable bar stools from Amazon!..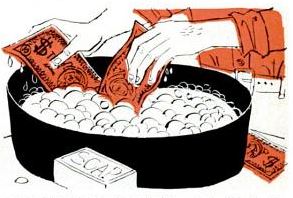 Washable paper money. If coated with plastic, bills could be given a sudsy bath as needed and there'd be no more "filthy lucre" carrying germs. By Jonas Martin, San Francisco. May 1960 This idea for polymer banknotes is now a reality in many countries. Having lived in both Canada and the UK I know that […]
A bottle opener built into the doorpost of cars. All you need is an opening of the proper shape, and it would save a lot of frustration. By M. Berger, University City, Mo. May 1960 I'm not quite so sure about a car door bottle opener, but you can get a jazzy bottle opener from […]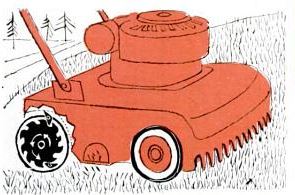 Ratchets in the wheels of rotary power mowers to prevent them from rolling backwards on slopes. A lever on the handle would release the brake. By Roger Race, Saukville, Wis. May 1960 Rotary Power Mowers Rotary power mowers have become widely accepted in their field, and are currently the most popular equipment available for use […]
Disposable paint brushes. You'd buy long strips of bristles, cut off a piece as needed, and slip it into one of a set of various size holders. By Joseph A. Slais, Riverside, Ill. May 1960 Disposable paint brushes are widely used for cleaning, applying, coating, and painting. The most commonly used type of paint brush […]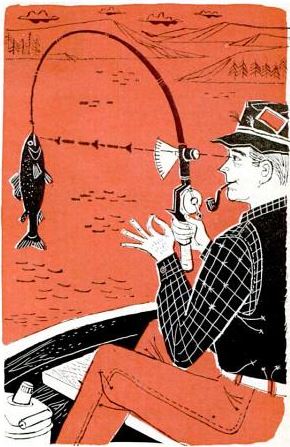 A weight gauge on fishing rods. You'd sight past it to the end of the rod, and the rod's bend would indicate the weight of a fish. By George Williams, Portolla Valley, California. May 1960 You can purchase digital fishing scales on Amazon, I don't think rods with in-built scales ever took off!
Knapsacks that open out flat to make it more convenient for campers to find things. They might be cross-shaped and zipper-fastened. By Norvell Neitzke, Plainview, Nebr. May 1959 You can purchase a knapsack/backpack on Amazon, although I don't think that they open out flat!..
Car mufflers and exhaust pipes with flange and bolt connections. With fittings like that, removal or installation would be a breeze.By Robert E.Curlee, Winston-Salem, N.C.May 1959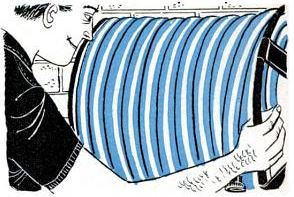 A white line on a garden hose. Running the length of the plastic tubing would signal if there is any twisting of the hose as it is wound back onto the reel. By W.Dale, Marietta, Ohio. May 1959 Alternatively, you can purchase an anti-kink garden hose from Amazon…
Long-lasting fence pickets made of white plastic. Besides being rot-proof, they'd do away with the chore and expense of frequent repainting. By W.H.Hoeft, Vancouver, Washington.May 1959 
A portable grill with a storage bin for charcoal. A swing-out lid could cover the lower section. Pulled out, it would become a food counter. By W.J.Roche, Scranton, Pa. May 1959 You can purchase a portable grill on Amazon…
Rear-view mirrors that can be easily re-aimed after they've been moved. Marked dials would let each driver of the car adjust the mirror to his own setting.  By J.Nathan, Winnetka, Ill. May 1958 You can purchase adjustable rear view mirrors on Amazon…
Garden hoses on automatic reels installed inside the basement. They'd pay out or reel in the hose like the extension cord on some appliances. By S.P.Jacobus, Fairfax Station, Va. May 1958 You can purchase hoses with retractable reels on Amazon…
Easy-to-open frozen-food packages. Pull strips like those on cigarette packages would make a simple job of getting at their sealed-in contents. By Mrs. Chester Combs, Tucson, Arizona. May 1958 Typically, the easy-to-open packages are characterized by a tear tab that is made of foil or paper and is adhered to a flap portion of a […]
Convertible station wagons. Removable roof sections and rear windows would make them open cars in summer. They'd serve as open bed trucks, too. By Bob Marie, Huntertown, Ind. May 1958 Convertible station wagons or soft-tops are station wagons with a removable top, typically retractable, that allows the wagon to be driven as a car (such […]
More rigid shower curtains. Narrow ribs of plastic (like collar stays) spaced about two inches apart would keep the curtain from wrapping around you. They are water repellent and stain resistant. By Hazel Atkinson, San Diego, California. May 1958 You can purchase shower curtains on Amazon…  
Built in sockets on portable power tools. Cordless they'd be easier to store; and one cord, bought separately, would serve all of your electrical tools.  By V.W.Rogers, Sunnyvale, California. March 1963 You can purchase portable power tools on Amazon…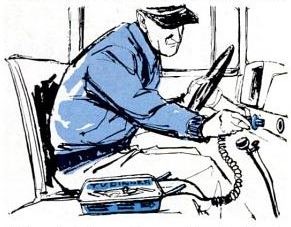 Foil packed frozen dinners with a heater element in the bottom. A hunter or workman would clip a cord from his car's power outlet socket into leads that attached to the packet. By R. Marie, Hagerstown, Ind. March 1963 You can purchase frozen dinners from Amazon…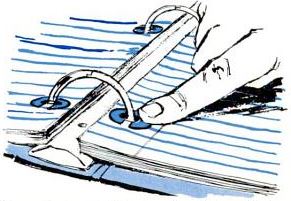 Gummed paper reinforcements with a slit at one side. Then you could repair loose-leaf pages without removing the sheets from the book. By J.M. McPhee, Braintree, Mass. March 1963 This idea obviously was a great one as they are now readily available for purchase from most stationers or Amazon…
Stubbier paint cans would provide a wider mouth for broader brushes. Cans with a greater diameter than their height wouldn't tip over so easily either.  By Donald Nauman, Caledonia, Minn. March 1963 You can purchase paint from Amazon, although at the time of posting I could only find it on the UK amazon site, not […]
For better karting, a quick change gear reduction for the clutch so you could make changes for speed, power, or track variations quicker, easier and cheaper. By Gary Pittman, Independence, Pa. March 1963
Two-faced rulers marked on one face with measurements from the midpoint outwards would make it easier to determine the center between points.  By R.E.Solfest, Eau Claire, Wis. March 1962 You can purchase various different rulers on Amazon
Pick-up sheets of metal foil on boxes with a choice of small, medium, or large sheets would result in less waste than with the one-size rolls and make the foil much easier to use. By Leon Holub, Island Park, New York. March 1962 You can purchase foil sheets on Amazon…
Made for the job funnels would be designed so as to fit wide-mouth and regular vacuum bottles. They'd also have large enough bottom openings to handle thick soups. By Mrs. Alex Mitin, Bay Port, Mich. March 1962 You can purchase a set of funnels on Amazon…
An idea for brake inspection ports on car and truck wheels. Removing the hubcap would expose the port in the brake drum for checking lining wear. By R.E.Baker, W.Lafayette, Ind. March 1962
A pull-out hose similar to those that are found on kitchen sinks would be excellent for rinsing out the tub or for bathing and shampooing your kids. By Mrs. G.K.Williamson, Bedford, Ind.March 1962
Childproof sink cabinets you'd open with a push-button or lever on the top. This would keep toddlers from reaching harmful cleaning chemicals.By Mrs. M.Koslover, Reading, Mass.March 1961
Triggered pump oilers in the handles of die stocks and tap wrenches, and an oil exit at the cutting point. No more stops to apply oil.By A.R.Tanner Jr., Poughkeepsie, New York.March 1961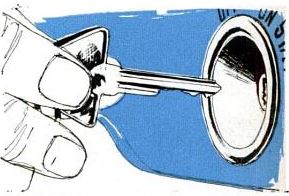 A funnel-shaped lead-in for a car's ignition key. An integrated part of the ignition switch, it would guide the key directly into the keyhole.By R.D.Remy, Rochester, Ind.March 1961
With this idea for pick-the-spot LP records, you could guide the needle to a particular piece of music. Why not white internal spaces between the recorded bands? By Cy Groves, Calgary, Canada. March 1961 You can buy a record player on Amazon…
Here's a great idea for trapping bank robbers. while they are stood at the bank tellers counter simply press a push button and the robber will drop into a cell beneath the floor where he would be held securely until the police arrive. By Dan Stallings, Van, Texas. March 1961
Car oil-filler spouts that would pierce metal. Then you could shove the can onto the spout, after removing the breather cap, and pour in the oil.  By H.T.Gibbons, Scottsdale, Arizona. March 1960
Insulating guards for soldering guns. With only the tip of the gun exposed, you wouldn't burn other parts when soldering in a radio chassis.  By H.G.Radcliffe, Petersburg, Va. March 1960 You can purchase a full soldering iron kit on Amazon
Rugs with pockets at the four corners into which the rug could be inserted. Pads are always shifting and showing at the edges and this would anchor them. By Joan Bost, Chicago. March 1960 You can buy yourself a nice new rug on Amazon…
A chin strap on mens hats. Tucked behind the sweat band, it could be lifted out on a windy day and snap-fastened to the face of the band.By Jim Martin, St. John's, Newfoundland.March 1960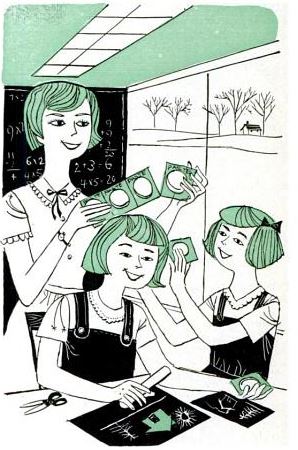 Individual paste pots for schoolroom use. They'd hold just enough paste for one child's project and would therefore eliminate sticky jars and dried out paste.By Nathan Bridwell, Midland, Mich.March 1960
An antenna connection on small transistor radios so they could be operated more efficiently in a car, using the regular automobile antenna.By Charles E.Yeatts, Camp Hill, Pa.March 1959
An easy to adjust hand brake for automobiles. Why not a threaded shaft so that by simply turning the handle clockwise, you could tighten the brake? By H.J.Simoff, Cleveland.March 1959
Transparent plastic gas tanks on lawnmowers, so you could check fuel levels instead of waiting until the mower stops to know that the tank is empty. By Jeffrey Konig, Grafton, Wis.March 1959
Venetian blinds of flexible plastic. Youngsters (or the family pup) couldn't bend them out of shape when they poke them aside to look out of windows.  By Glenn Corbett, Kansas City, Mo. March 1959 You can purchase Venetian blinds from Amazon…
Curbside trash receivers like the mailboxes that can be reached from inside a car. On highways, they could be at the edge of the shoulder.By John Bryant, Cumberland, Md.March 1959
A screwdriver with spider gears in the handle would enable you to cut the turn ratio in half and give you a lot more power for those difficult to budge, heavy screws. By Charles E. Tuma, Lombard, Ill. June 1962 These days you would probably be best just purchasing a cordless, electric screwdriver such as […]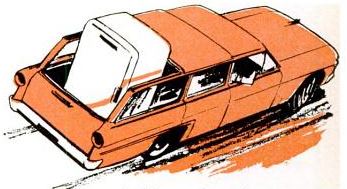 A sliding roof panel on station wagons would enable you to transport tall cargo. The cost of the change shouldn't be too great if the tailgate is fitted with crank down windows. By R.A.Couture, Somersworth, N.H. June 1962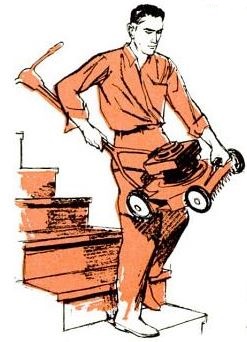 A lift-up handle on the front of power mowers would make them safer and easier to lift into a car trunk or to carry to your shed or down into your basement.By Allen Kast, Tell City, Ind. June 1962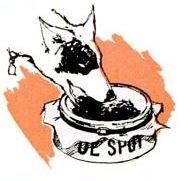 This is an idea for an aluminum foil covered dog feeding dish. The dish would be weighted at the bottom and would have a collar at the top to secure the foil in place. This would remove the need for cleaning the dish – you would instead just throw away the foil liner. By E.Bloomingdale, […]
This idea for a canoe outrigger made out of foam with flexible fiberglass boom support would stabilize a canoe and be light in weight for easy transporting to the edge of the water. By Peter Mundy, Libertyville, Illinois. June 1962 Get yourself a portable, blow-up, kayak from Amazon, although at the time of publishing the […]
Bottles of oxygen you could team up with a propane torch for metal cutting or for welding jobs. Both hobbyists and homeowners would benefit.By Joseph E. Blaze, Alliance, Ohio.June 1961 
Squared-off motor-oil cans so you could salvage them for your shop or garage. With one side cutaway, they would make fine drawers for small parts.By N.D.Stowell, Wichita, Kan.June 1961
A mud flap reaching from one rear wheel to the other on station wagons would eliminate the dust and dirt that collects on the rear window. By James St. George, Shelburne, Vt. June 1961 I don't think this idea ever took off as I can only find normal mudflaps on Amazon…
A doorbell plate could be installed at the bottom of a service door. Tapping the plate with the toe of your shoe would ring the bell for you. By Paul Patete, Canton, Ohio. June 1961 These days, you'd probably be better with a video doorbell such as the ring 3 as sold on Amazon…
Measuring decals for fishermen. With a ruler on your tackle box or the gunwale of your boat, you;d never have to guess about the length of a fish. By Ken Mueller, Eugene, Ore.June 1961
A pull-out sun visor over a car windshield. It would stretch across to fill the gap and shade a middle passenger from bright sun.By Richard Bauguess, Fort Worth, Texas.June 1960
A light picnic trailer on two wheels. You could jockey it around by hand at the picnic site and the cover would open out to make it a table. By R.A.Reynolds, Westbrook, Maine. June 1960 These days a trailer hitch such as this one from Amazon would probably be better…  
Replacement signaling wicks for cigarette lighters. Why not dye the last inch a bright color, or simply interweave several colored threads? By J.J.Vernimmen, Grand Rapids, Mich.June 1960Back in the 1960s when smoking was cool and supposedly safe. The best bet is to not smoke at all these days!
Soft-plastic milk cartons so you'd never get clumps of wax in a glass of milk. And you'd never get leaks in the nonbreakable containers, either.By R.H.Morgan, Towaco, N.J.June 1960Sounds a bit like Tetra Pak to me, I wonder which came first? This idea or the Tetra Pak milk carton?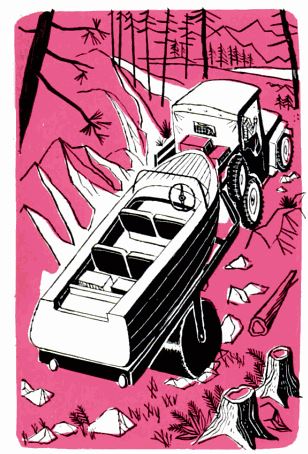 Easy-roll boat trailers and outboard carriers on Rolygon air-bag tires. They'd handle more easily on rough terrain than wheeled ones.By R.W.Schiller, Menominee, Mich.June 1960
Head markings on bolts that require cotter pins. With a notch in the same plane as the hole, even working blind you could slip the pin in with ease. By G.Wilson, N.Guilford, Conn. June 1959 You can purchase various bolts on Amazon…
A safety lock for power windows on cars. An electrical switch, controlled by the driver, would cut off power when children were in the car.By A.J.Dallaire, Opa Locka, Fla.June 1959Another great idea that is commonplace in most cars today. 
Ice stick freezer trays. Depressions the size of a carpenter's pencil would turn out ice shaped to slide through the neck of a small pop bottle. By Phil Liston, Wooster, Ohio. June 1959 You can purchase these from Amazon…
Car top garment bags fitted with long straps that could be passed through the windows and buckled. Clothes hung inside a car cut visibility. By F.M.Matthews, Millington, Tenn. June 1959 Obviously, this was a great idea as your car rooftop storage bags are commonplace nowadays and are used for storing all kinds of things, not […]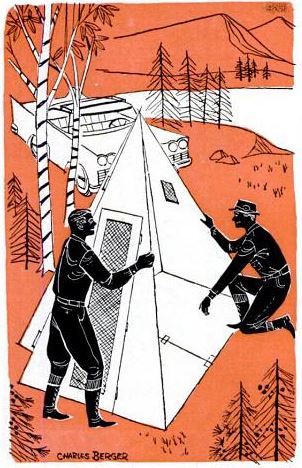 Hinged aluminum tents you could fold up for easy transporting. They'd be waterproof and rustproof and would reflect the sun to make a cool shelter.  By R.Eschleman, Reading, Pa. June 1959 Alternatively, you can purchase a modern-day ten from Amazon…
Two-ended nails for invisible joinings without drilling. Set a tube on the head to drive in one end, then drive the work onto the other end.By J.L.Barrett, Beckley, W.Va.June 1958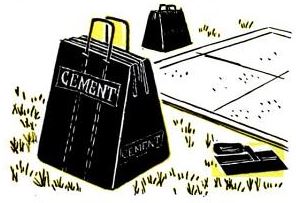 Cement bags like shopping bags, with handles and tough pasteboard bottoms to keep the unused contents of an opened bag dry and off the ground.By Bobby Burns, Whiteville, N.C.June 1958My guess is you'd need some strong arms!!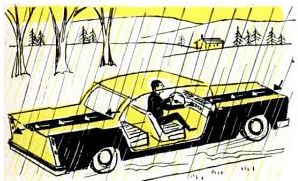 A rear air duct in cars to permit air entering front ventilators to escape. This would make it unnecessary to open windows in rainy weather.By J.C.Culler, Newberry, S.C.June 1958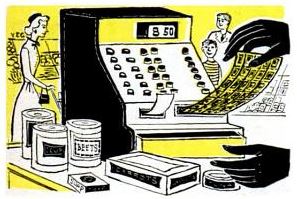 Stamp-dispensing cash registers. They'd hold rolls of premium or gift stamps and release the correct number as the bill total is rung up.By Bob Lee, Redondo Beach, California.June 1958
Inflatable furniture of heavy plastic for use outdoors – or indoors when extra seating is required. Deflated it could be easily stored away and take little space. By R.C.Dunne, La Grange, Ill. June 1958 You can purchase an inflatable lounger from Amazon…
Precast building blocks with molded-in recesses to take electric outlet boxes. This would save a lot of hammering and chipping out of concrete.By H.P.Fischer, Rochester, Pa.July 1962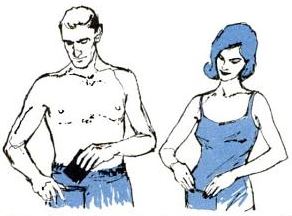 Self-sealing pockets on swimsuits. A waterproof flapless pocket of heavy polyplastic, grooved at the top so the sides stick together similar to Zip-Lock bags would do it. By R-J.West, Chicago. July 1962 You can purchase some men's swimming shorts with a sealed pocket from Amazon…
This is an idea for a safe power mower with a deadman's switch built into the handle. Releasing the pressure of your hand, as in a fall, would cut off the current from the magneto. By Jim Sutro, Los Angeles. July 1962 Such an idea generally comes as standard on electric mowers these days one […]
Trap doors in the floors of cars would enable you to whisk out sand and dirt that can't be swept out over the rise at the door sills.By Mrs. W.S. Wilbur, Miami Springs, Fla.July 1962Or alternatively by yourself a car vacuum from Amazon!.. 
This is an idea for a sand runner that you would clip on to shopping carts. Then you could use the cart for hauling picnic food and equipment to the edge of the beach using the wheels and then drag it over the sand by using the runners. By R.A.Shaw, Ardsley, New York July 1962 […]
Supermarket cash registers with an additional window at right angles to the keys so the customer in a checkout line could see her items being rung up.  By J.Kelly, Albany, New York. July 1961 You can purchase a cash register from Amazon with an additional window that tilts for your customer to view…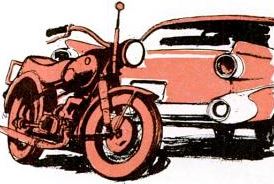 Motorcycle markers to warn car-backing drivers who might not see a cycle. Reflector-topped, telescoping wands, they'd be raised in parking lots.  By L.D.Hull, Oakland, California. July 1961 You can purchase reflective markers from Amazon…
Glass cutter wheels mounted in a notch instead of a fork, and a bevel-edged on one side only. Then you wouldn't have to allow for the offset of the cut.  By A.Vena, Philadelphia. July 1961 You can purchase glass cutting wheels from Amazon…
Abrasive tape backed with a pressure-sensitive adhesive. You could wrap it around a rod or any other handy object to sand those hard-to-manage pieces. By John Lubin, New York City. July 1961 You can purchase abrasive tape from Amazon…
Highway divider stripes colored to tie in with route numbers. How easy it would then be for a driver to follow his color line through a maze of city streets!By Lloyd Smith, Elmira, New York.July 1961
A file shaped like a gullet on a circular saw blade. That way you could avoid the nicks and notches that spoil the contour after a few sharpenings.By Carl Bombard, Holyoke, Mass.July 1960Buy yourself a brand new circular saw from Amazon! 
Rotary-mower air filters at the top of a tubular handle. Placement far from the discharge chute should eliminate clogging and carburetor trouble. By E.Dodd, Middletown, N.J. July 1960 You can purchase lawn-mower filters from Amazon…
Throw-away bottles and jars with some salvage value. Squared off like milk cartons, they'd stack to form glass-brick room dividers or garden screens.By S.Levine, Oakdale, New York.July 1960Not quite glass bricks, but you can purchase waterproof stained glass brick pattern film from Amazon…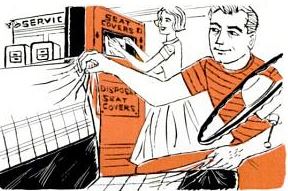 Disposable car seat covers for riders in beach or work clothes. Made of waterproof paper or thin plastic, they'd be sold by vending machines at gas stations. By R.C.Miller, Santa Monica July 1960 You can purchase disposable car seat covers from Amazon…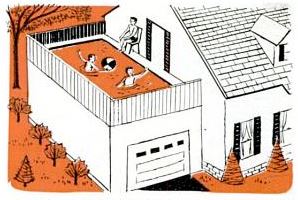 Rooftop swimming pools on garages. This way it would be impossible for children to stray into them (any exterior stairs would be removable) and they wouldn't rob garden space. By Koriun Nigian, Los Angeles. July 1960 You can purchase a portable swimming pool from Amazon…
Ribbon-renewing rollers on typewriters. As the ribbon fed through, it would be re-inked and never need replacement until the fabric was worn.By John Ryder, Little Falls, N.J.July 1959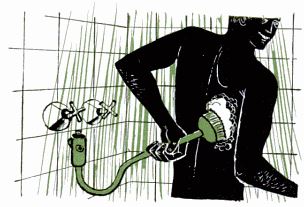 A back-scrubbing bath brush that could be attached to a shower wall. It would have a well for liquid soap and a pushbutton to dispense it.By A.T.Iberg, Highland, Ill.July 1959You can purchase a simple back brush from Amazon, unfortunately, it doesn't look like it can be connected to the shower!Return To Creative Ideas
More light on wagons. I'd like a manually operated switch on the tailgate so I wouldn't have to open a side door to see into the back.By Gary Conley, Sheffield Lake, OhioJuly 1959You can purchase an LED work light from Amazon by clicking on the image below. (affiliate link)Return To Creative Ideas
Multiple-use mowers. With a flexible shaft hooked to a power take-off, my mower could run a hedge trimmer, knife sharpener, and car polisher, etc. By C.N.Breitenfeldt, Marathon, Wis. July 1959 You can purchase a lawnmower from Amazon by clicking on the image below, however, unfortunately, all this one can do is cut grass!! (affiliate link) […]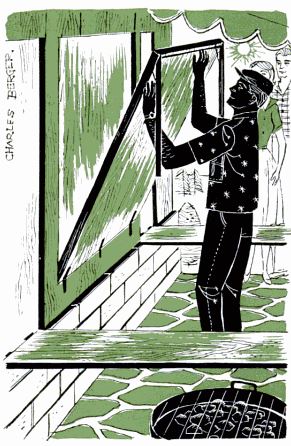 Patio dining accommodations that could be built into an outside wall of a house. Table and benches would pull down for use, fold up flat for storage.By Bill Broadwell, Charlotte, N.C.July 1959Return To Creative Ideas
Cord-winding lugs on toasters, mixers, and other small appliances. Only my vacuum cleaner provides an anchorage for the extension cord.By Mrs. A.R.Tagg, Ishpeming, Mich.July 1958You can purchase a toaster with a cord wrap from Amazon by clicking on the image below. (affiliate link)Return To Creative Ideas
Easy-to-see croquet wickets. Spanking white nylon or reinforced plastic would make durable and washable wickets, easy to spot on a lawn. By W.J.Inman, Silver Spring, Md. July 1958 You can purchase a full croquet-set from Amazon including bright white wickets by clicking on the image below. (affiliate link) Return To Creative Ideas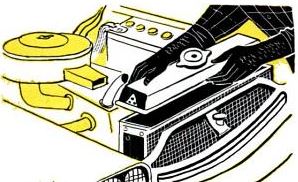 Come-apart car radiators with a top chamber that comes off like the oil pan of the engine. Then you could do a complete radiator-cleaning job at home.By L.J.Bump, Vineland, N.J.July 1958Return To Creative Ideas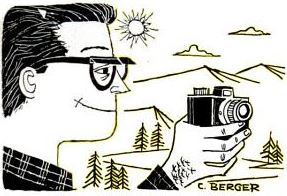 Shaded eyeglasses to block out glare. A shallow overhang on the frame would have the same effect as holding your hand against your forehead.By R.Blagden, E.Hampton. Conn.July 1958Return To Creative Ideas
Patch testers for sunbathers to prevent bad burns. The chemically-treated stick-on patch would change color when further exposure is dangerous.By Bill Crowell, Raleigh, N.C.July 1958Return To Creative Ideas
Spray cans with a flexible feeder tube inside, weighted at the end. You could spray with the can tilted in any direction and get out all of the contents. By Steve Solovitz, St. Louis January 1963 Don't think this is a problem anymore with modern-day pressurized paint cans such as this one from Amazon. Click […]
Lift out foil liners, made in standard sizes for automobile ashtrays. Also, a tray designed for home use and sold with replaceable liners.By Mrs. C.E.Wilson, Vanceboro, Maine.January 1963Return To Creative Ideas
A plug-in bar with add on sections, to do the job of electrical molding. You would plug it in and anchor it flat to the wall to "install" new outlets.By R.H. Morgan, Towaco, N.J.January 1963Not quite the same, but you can purchase a 12 outlet extension lead from Amazon! (affiliate link)Return To Creative Ideas
A combination carrying case for SLR cameras. A lower compartment would hold accessories that usually hang from the shoulder straps or bulge your pockets. By George Galloway. N.Y. January 1963 You can purchase an SLR case from Amazon by clicking on the image below. (affiliate link) Return To Creative Ideas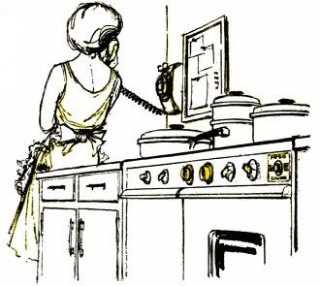 A pot saver switch on stoves. A housewife would set it before leaving the kitchen to answer the door or phone. All the burners would go off automatically in ten minutes.By S.N.Stresnic, Fort Lauderdale, Fla.January 1963Return To Creative Ideas
This idea for a cordless vacuum cleaner would use batteries that could be recharged. This would mean that you wouldn't be hindered from the dragging cord. By Ruth Schrader, Clarksburg, California. January 1962 Great idea, of course, you can now readily purchase cordless vacuum cleaners. Such as this one that is available from Amazon. (affiliate […]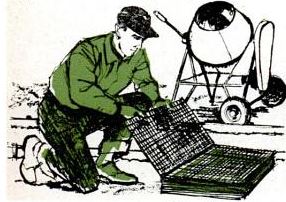 Hinged steel mesh for reinforcing concrete. Then a handyman wouldn't need a truck to haul it and six men to stomp it when pouring a patio. By Darrell Huff, Pacific Grove, California. January 1962 Return To Creative Ideas
A pipe fitting that would be a combination check valve and a globe valve. Why not a ball knuckle on a stem to mate with a socket on a clapper? By A.Weigle, Newberry, S.C. January 1962 Return To Creative Ideas
A combination door and cap for automobile gas tanks would eliminate reaching behind the access door. The cap would be made out of soft rubber and attached to the door with an extended spring.By N.G.K Bler, Rome, New York.January 1962Return To Creative Ideas
Here is an idea for sandpaper shoe soles. They'd be ideal for icy weather. They would have contact adhesive on the back. You would strip them off and discard them when indoors.By Dr. S.M.Dooreck, Brooklyn, New York.January 1962Not quite sandpaper soles but you can purchase Self-Adhesive Anti-Slip Stick Pad for Shoes from Amazon by clicking […]
Non-tangling cords on an electric drill and similar shop equipment. Why can't they be sold with the self-coiling wire now commonly used on telephones?By W.C.Fox, Nampa, Idaho.January 1961Nowadays, I'd guess you would simply purchase yourself a cordless drill such as this one below from Amazo. Click on the image for more details. (affiliate link)Return To […]
A splinter removing kit for homework shoppers. It would contain all the tools needed for first aid: magnifying glass, tweezers, needle, antiseptic. By Robert Falk, Chicago. January 1961 You can purchase something pretty similar to this on Amazon by clicking on the image below! (affiliate link) Return To Creative Ideas
A tripod flashlight stand, adjustable for height, that would swivel at various angles and lock. This would leave both hands free for the workman.By H.G.Frank, Teaneck, N.J.January 1961You can purchase a flashlight pre-mounted on a tripod stand from Amazon by clicking on the image below. (affiliate link)Return To Creative Ideas
A heat dispensing fan flat enough to hang between the wall and radiator where heat gets pocketed. It would operate much as a car heater does.By A.K.Baldenweck, Kirkwood, Mo.January 1961You can purchase a standalone electric fan heater from Amazon. (affiliate link)Return To Creative Ideas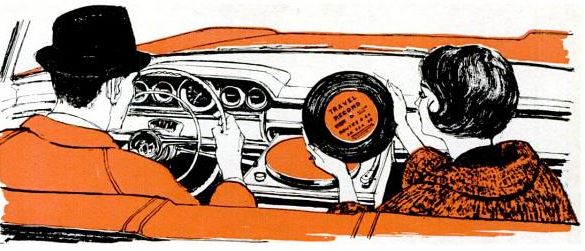 Travel records with music between route directions for use in phonograph-equipped cars. They'd be cheap paper disks to replace unwieldy road maps. By T.N.Rizzo, Brooklyn, New York. January 1961 Personally I'm amazed that cars ever played vinyl records. They can't have sounded too great when going over a bumpy road, surely the needle would be […]
Automatically dispensed fish food so fish fanciers could get away for a weekend. Capsules within capsules would dissolve, one every 24 hours.By Verda Ross, San Bernardino, California.January 1960You can purchase a fish-food dispenser from Amazon. (affiliate link)Return To Creative Ideas
A disposable toothbrush of tough paper or flexible plastic with plastic bristles. Tubular to fit over the index finger, it would need no handle.By S.S.Smith, Oak Park, Mich.January 1960You can purchase a pack of disposable toothbrushes from Amazon by clicking on the image below. (affiliate link)Return To Creative Ideas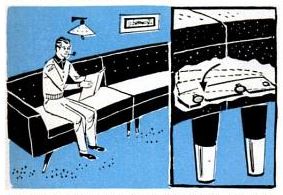 Furniture locks to keep sectional couches from sliding apart. A metal plate, to slip over pins on each section or clamp into place, would do it.By W.H.Tapscott, Port Arthur, Texas.January 1960I wasn't able to find anything representing this idea, however, on Amazon you can purchase a standard security steel cable for protecting furniture that you […]
A current meter to measure the electricity an appliance uses in a given period. You'd connect it to the appliance and plug it into the outlet.By P.M.Henson, Joplin, Mo.January 1960You can purchase something similar to this idea from Amazon by clicking on the image below. (affiliate link)Return To Creative Ideas
A pull-out extension cords with appropriate connections inside the car. To run an engine heater or charge the battery, you'd plug the cord into an outlet.By E.E.Frazer, Kewanee, Ill.January 1960You can buy a standard extension coord on a reel from Amazon by clicking on the image below. (affiliate link)Return To Creative Ideas
Water-paint capsules for use with a garden hose. You'd simply drop the capsule in a special container, turn on the water and hose on the paint.By J.M.Blasko, Savanna, Ill.January 1959You can purchase a spray painting unit from Amazon. (affiliate link)Return To Creative Ideas
More storage inside cars to hold the overflow from the glove compartment. Why not put a washable plastic drawer beneath the front seat?By C.L.Berger, Plainview, New York.January 1959Return To Creative Ideas
Signal strips on frozen-food packages. Of heat-sensitive paper, they'd change color to warn buyers if kept warm enough to impair the food.By Mrs. G.Rosenfeld, Bronx, New York City.January 1959Return To Creative Ideas
Stick-on lead-in wire. The pressure-sensitive adhesive would anchor it fast from the antenna down the side of the house, along the joist, floor or baseboard.By H.P.Fischer, Rochester, Pa.January 1959Return To Creative Ideas
Posthole diggers with depth markings in feet and inches on one handle. Then there'd be no need for repeatedly trying the pole in the hole.By Stephen Walton, White Plains, N.Y.January 1959Return To Creative Ideas
A plug-in jack in the horn circuit at the base of the car's steering column, clearly marked "horn." Yanking out the jack would silence a stuck horn.By F.W.Edwards, Columbus.January 1958Return To Creative Ideas
A bottle-opening drawer handle. An opener stored inside a drawer is hard to find, and besides, our kitchen is disappearing under wall-hung gadgets.By John Teachman, Lincoln, Nebr.January 1958You can purchase a wall-mounted bottle opener such as this one by clicking on the image below. (affiliate link)Return To Creative Ideas
Work gloves with transparent plastic cuffs (or one such cuff) so that you could tell time on your wristwatch without taking off the glove. By David Chamberlain, Butte, Mont. January 1958 You can purchase transparent gloves on Amazon, although I don't think they're quite what the person with the idea had in mind! Return To […]
One-step starch you could spray on a collar or curtain and iron dry. Soaking, hanging up items, and waiting for them to dry would be eliminated. By D.Davan, S.Ozone Park, New York. January 1958 You can purchase spray starch from Amazon. (affiliate link) Return To Creative Ideas
Road-block warning lights on throughways for use when accidents or fires stall traffic. Drivers could then be alerted miles ahead to take the next exit. By Stephen Samuels, Boston. January 1958 You can purchase vehicle warning lights on Amazon by clicking on the image below. (affiliate link) Return To Creative Ideas  
Transparent flowerpots for house plants so you could check the depth penetration when watering and even determine when roots were out growing the pot.By Roger Rachow, Omaha.February 1963You can purchase transparent flower pots from Amazon. (affiliate link)Return To Creative Ideas
Snow shedding shovels with blades coated with teflon (the plastic used on non-stick frying pans) and a built in hand warmer in the handle.By H.F.Stephens, Pleasantville, N.J.February 1963Or alternatively you could just purchase a snowblower from Amazon by clicking on the image below. (affiliate link)Return To Creative Ideas
Easy to load tape recorder reels. They would have a slotted plug, set in flush, that you could turn with a finger to lock in the starter end of the tape.By David A Odom, Puyallup, Wash.February 1963Return To Creative Ideas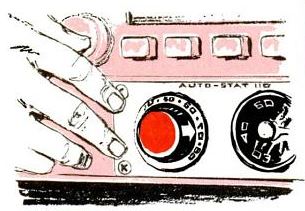 A car heater thermostat that you could set for the desired temperature. This would eliminate being baked, as well as a constant need for adjustment.By Mrs. Barbara Davis, Rome, Ga.February 1963These days, in many cars, there are dual climate controls, so you can set a different thermostat temperature for the passenger and the driver! Return To […]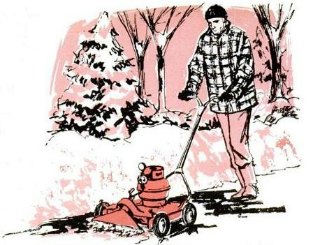 An oil-fired flame thrower for clearing ice from sidewalks and driveways. A flame close to the ground would melt thin ice and loosen the thicker ice. By Ralph Monroe, Pontiac, Mich. February 1963 Maybe a weed-killing propane burner such as this one from Amazon would have the same effect? (affiliate link)Although I guess it would […]
Pliers with screwdrivers on the handles. With a Philips screwdriver on one end and a regular screwdriver on the other, you would save space in a toolbox. By Ken Sandvik, Two Harbors, Minn. February 1962 These days you could simply purchase yourself a multi-tool such as the one below on Amazon. Click on the image […]
Sectional Tire Chains with snap-fastened cross chains. Worn lengths could be removed and replaced easily with a new chain by using the same snap hooks.By Andrew Vena, Philadelphia.February 1962You can purchase tire chains from Amazon by clicking on the image below. (affiliate link)Return To Creative Ideas
A motor-driven music box with a drum using moveable pins. Then you could change the tune, following a direction sheet for placement of pins.By F.Harry Louden, Sarasota, Fla.February 1962You can purchase a wind-up music box from Amazon by clicking on the image below. (affiliate link)Return To Creative Ideas
A foot-warming hunting boot with electrical wires in the lining would keep your feet lovely and warm while out hunting. The battery would be slipped into a pocket in the heel or on the pants leg.By Bob Montgomery, Rockford, Ill.February 1962You can purchase footwarmers that you can insert into your boots from Amazon by clicking […]
This is an idea for throw-away sheeting on rollers at the head and foot of a bed. To make the bed, you would pull out a clean section of soft, cloth-like paper from each roll.By Evelyn McGraw, New York City.February 1962Return To Creative Ideas
For better traction, metal tanks under the beds of pickup trucks. You'd fill them with water. A drain plug would allow emptying when desired.By W.F.May, Credtwood, Ky.February 1961Return To Creative Ideas
Coot-to-the-touch electric irons with all outer parts except the sole plate cast in one piece of an asbestos-cement and fiber-glass composition.By S.L.Steigman, Howard Beach, New York.February 1961I doubt a household product would be allowed to be sold with asbestos in it these days!Purchase a modern-day electric iron from Amazon by clicking on the image below. […]
A magnetic belt would be great for holding nails and small parts for someone doing odd jobs around the house. It could also be used to hold straight pins or hobby pins.By Muriel Carey, New Castle, Pa.February 1961I was only able to find belts with magnetic buckles on Amazon. Click the image below for more […]
A pooch-drying tent to replace the hood on the warm-air hair dryers that women use on their hair. It would dry a dog after a bath or a walk in the rain.By W.Ronson, Jamaica, New York.February 1961Return To Creative Ideas
Battery-operated drills would be ideal for those jobs that are far away from a power source. You would beef up its rechargeable battery at an outlet before heading for the worksite.By B.W.Pierce, Norwalk, Ohio.February 1961These days, you can purchase excellent cordless drills directly from Amazon. Click on the image below for more details. (affiliate link)Return […]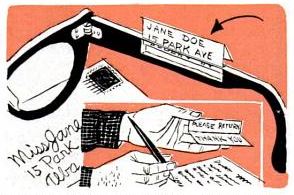 Eyeglasses with a pocket in one sidepiece to hold an identification plate with the owner's name and address. Then lost glasses might be returned. By R.F.Swenson, Worcester, Mass. February 1960 Alternatively, just purchase a pack of 4 cheap eyeglasses from Amazon that if you do lose won't be too much a loss! Click on the […]
Abrasive gloves with a coating of sand on the palms and the front fingers. They'd be fine for light sanding, particularly on small objects. By Kay Gordin, Derby, Kan. February 1960 You can purchase a sanding glove from Amazon by clicking on the image below. (affiliate link) Return To Creative Ideas
Radio tie points on long strips that could be cut apart. You'd snip off the number of points needed and then clip them to the mounting lugs. By D.P.Schneider, Waterburg, Conn. February 1960 Return To Creative Ideas
A magnet on the hub of movie film reels. Then with some iron filings cemented to the end of leader film, it would be easy to thread. By H.L.Woodward, Sioux City, Iowa. February 1960 Return To Creative Ideas
A pull-down partition in station wagons for warmth upfront. How about a transparent recessed roof panel riding on tracks like a garage door? By J.J.Vernimmen, Grand Rapids. February 1960 Return To Creative Ideas
A fingertip bandage about the size of the rubber fingers used in offices. Adhesive tape around the open end would hold it securely in place. By Jane Maxwell, Tuscaloosa, Ala. February 1959 You can purchase a modern-day fingertip bandage from Amazon by clicking on the image below… (affiliate link) Return To Creative Ideas
Dial guards for tiny radios that get lots of handling. A push-in knob to lock or free the dial would prevent loss of the station setting. By D.Pulaski, W.Springfield, Mass. February 1959 You can purchase a small digital radio from Amazon by clicking on the image below… (affiliate link) Return To Creative Ideas
Take-apart flower pots. Big pots cost a lot and sometimes have to be broken to remove a plant for transplanting without damage to the roots. By Mrs. Harley Utz, Vandalia, Ohio. February 1959 You can purchase seeder pots from Amazon by clicking on the image below… (affiliate link) Return To Creative Ideas
No-pump grease guns for cars. They'd use gas cartridges for pressure. Add a grease cartridge loading feature and you'd have a honey of a gun.By Leon L.Morris, Baltimore.February 1959You can purchase a modern-day, battery-powered, grease gun from Amazon. (affiliate link)Return To Creative Ideas
Dual-purpose hubcaps lined with red reflective material. Supported on a folding stand, the hubcap would warn off other motorists after dark. By Frank Palmieri, Paterson, N.J. February 1959 Return To Creative Ideas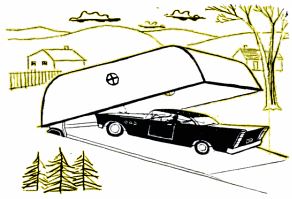 A one-piece plastic garage that would swing open or closed, like a clamshell, on a spring-and-hinge mechanism anchored in the concrete-slab base. By Ralph Westervelt, Newark, N.J. February 1958 You can purchase an all-weather-proof carport from Amazon which may serve the same purpose! (affiliate link) Return To Creative Ideas
Pull-out dome lights on cars. A long reel wound cord would allow the lamp and housing to be removed for use as a trouble light outside the car.By Robert Current, Fort Wayne, Ind.February 1958Although, these days, you'd probably be better with a rechargeable flashlight such as this one from Amazon. (affiliate link)Return To Creative Ideas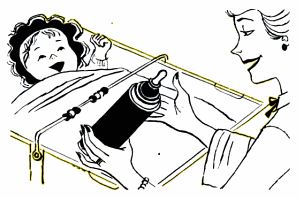 A vacuum-bottle adapter to make it a baby's bottle for use at drive-in movies or on car trips. No need to heat the milk – just slip on the nipple.By S.Abramczyk, Wyandotte, Mich.February 1958You can purchase an insulated bottle on Amazon. (affiliate link)Return To Creative Ideas
A jack-plane with an extension on one side. By sliding the extension along the face of a board, you could keep the edge square while you planed it.By Donald Snyder, Canton, Ohio.February 1958You can purchase a modern-day Jack Plane from Amazon. (affiliate link)Return To Creative Ideas
Kitchen deodorizers that could be linked by tubing to forced-air furnaces. They would quickly eliminate cooking odors in winter when windows are shut. By Fred Purnell, Lombard, Ill. February 1958 This deodorizer sold on Amazon is likely to be the modern-day equivalent of this idea! (affiliate link) Return To Creative Ideas
A plug-in timer switch for sleepy heads.  Wind it up and then plug your radio or television into it, and the set would go off after the pre-set interval. By N.Robinson, Northbridge, AustraliaDecember 1962These days, on Amazon you can purchase a programmable timer switch! (affiliate link)Return To Creative Ideas
Pre-Wired Christmas trees, made of plastic and with built-in light sockets would eliminate all those unsightly cords and the tedious and drop job of stringing them.  By Thomas Zadlo, Trumbull, Connecticut December 1962 I think this is a modern-day implementation of this idea, available on Amazon. (affiliate link) Return To Creative Ideas
Come-a-part-hinges on car trunk lids would enable you to quickly lift off the cover.  They'd make it much easier to carry large objects in cars with flat trunks.By R.Archart, Gary, Ind.December 1962Return To Creative Ideas
Illuminated saber saws.  Placing a small lamp just above the blade would mean that you wouldn't be constantly shifting the light source as you worked. By Len Watson, Cincinnati, Ohio.December 1962You can purchase a modern-day saber saw or jig saw on Amazon, not sure it illuminates though! (affiliate link)Return To Creative Ideas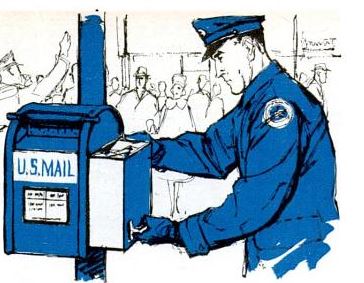 Speedier mailboxes with a locked, removable container at the side or back.  A mailman would simply lift out a full drawer and replace it with an empty one.By J.L.Peters, Brooklyn, New York.December 1962Return To Creative Ideas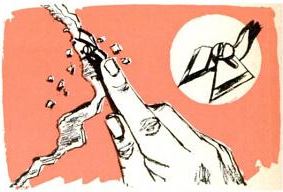 A scoring tool for seating plaster in cracks. You would open the points to the desired amount to cut a "dovetail" groove as you run the tool down the crack.By E.Hess, South Amboy, N.J.December 1961Return To Creative Ideas
An erasable writing panel on cameras like those that photographers have on film holders would enable you to record the film type and any other data of relevance.By A.E.Ortner, Brooklyn, New York.December 1961Return To Creative Ideas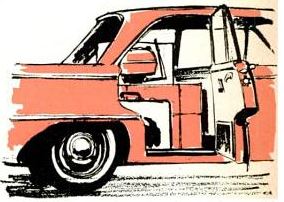 A deflatable seat in sedans would give you more luggage space for use on long trips or would make extra room for hauling bulky objects. By F.J.MacDonald, Fairmont, W.Va. December 1961 Personally, I think the foldable rear car seat that you see in many modern-day cars is a better idea. Inflatable car seats would be […]
This idea for a heavy-duty multiple outlet box would be ideal for cooking at the table. It would be a bit like a photographer's lightbox and would look good if enclosed in ceramic tiles.By H.Kearney, Elizabeth, N.J.December 1961Return To Creative Ideas
Brakes on shopping carts would be great for unloading your shopping when the cart is on uneven ground. It would prevent the cart from rolling away and banging into other people's cars.By L.D.Kurtz, Greensburg, Pa.December 1961Return To Creative Ideas
A change holder on the car dashboard. Why not a smaller version of the bus driver's change maker to deal out coins for parking and road tolls? By Mrs.R.H.Fitzpatrick, Gary, Ind. You can purchase a change holder from Amazon here. (affiliate link) December 1960 Return To Creative Ideas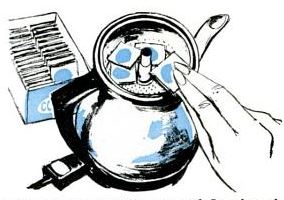 Throwaway perking bags of flow-through fabric or paper. They'd hold premeasured coffee and eliminate cleaning that messy percolator basket.By H.Lemunyon, N.Industry, Ohio.December 1960You can purchase a modern-day percolator from Amazon, however, for disposable coffee pods these days you would be better with a coffee maker such as this one also on Amazon. (affiliate links)Return To […]
Zip-up ice skates with laces too – to adjust indoors. Outdoors, you'd just zip them on or off without freezing bare hands or fumbling with laces.By J.J.Drill, St. Nazianz, Wis.December 1960Can do one better these days with a modern pair of ice skating boots such as this pair on Amazon that includes a locking buckle […]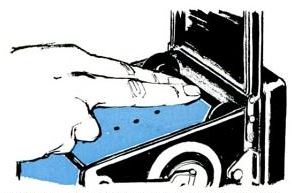 Stick on roll film you'd press onto a take-up reel instead of fussing with a slot. There'd be an adhesive on the back of the first inch.By A.R.Tanner Jr., Poughkeepsie, New York.December 1960Alternatively in modern times, simply purchase yourself a full digital SLR kit on Amazon! (affiliate link)Return To Creative Ideas
Air-breathing valves on storm doors so they'd be easier to close. The valve would automatically bleed off air caught between the inner and outer door. By M.Malmgren, Aurora, Ill. December 1960 Return To Creative Ideas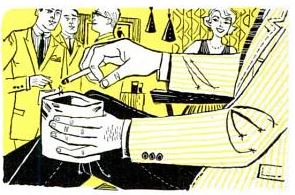 Foil pocket liners to keep coat pockets free of tobacco shreds and lint. They could be lifted out to serve as disposable ashtrays too.By C.J.Berger, Plainview, New York.December 1959Not overly convinced with this idea, but maybe that's just me. Luckily I don't smoke so it wouldn't be an issue anyway.For the smokers maybe just get […]
A two setting car thermostat for quick heat in winter, normal in summer. You'd adjust a setscrew mounted in a water-tight bushing in the housing. By W.M-Handley, Mentor, Ohio. December 1959 Great idea but miles away from the dual climate control with exact temperature selection available in many modern-day cars! Return To Creative Ideas
Between stud hose reels at all outside faucets. With both outside and indoor openings, the hose could be used for garden or fire fighting. By C.J.Scott, Jersey City, N.J. December 1959 Alternatively you may just want to purchase a fire extinguisher from Amazon! (affiliate link) Return To Creative Ideas
Dual use saber saws of the hand type that come with a table for bench use. They'd have detachable mounts for round-shank files and sanding strips. By A.C.Craft, Santa Ana, California. December 1958 You can purchase a modern-day saber saw from Amazon. (affiliate link) Return To Creative Ideas
Rubber tread covers for tracked equipment. Then you could drive a rig short distances on roads instead of hauling it to conform to state laws. By B.R.Sealey Jr., Warwick, Va. December 1959 Return To Creative Ideas
Earring accomodaters for phone receivers so that women wouldn't have to remove an earing to hear properly.A U-shaped foam-rubber pad might do the trick.By Catherine Gundling, Covina, California.December 1958I guess these days you'd just put your smartphone (such as this one on Amazon) on to speakerphone! (affiliate link)Return To Creative Ideas
A duffel-bag carrier for servicemen. Similar to the small two-wheeled carts used for golf bags, it would fold for storage inside the bag.By C.K.Adams, Manhattan, Kan.December 1958I couldn't find a duffle bag carrier, however, you can purchase a modern duffle bag on Amazon. (affiliate link)Return To Creative Ideas
Film identification tabs you could stick to your camera as a reminder, later, of what film you had inside and its speed. The tabs could also seal the rolls.By Mrs.A.E.Opper, Brooklyn, New York.December 1958Unfortunately, no longer relevant in today's modern, digital world of photography. You can purchase a great digital SLR with an excellent array […]
An easier oil changing system on cars. Put an electric pump on a drain line leading to an outlet on a fender and it would be easy to service your own car. By Paul LeBrun, Salem, Mass. December 1958 If you are changing the oil in your car, you will probably need some engine oil […]
Cordless Christmas tree bulbs that could be spotted at random. They'd operate off radio-frequency currents transmitted by a device like a Tesla coil.By K.L.Swinth, Seattle.December 1958Alternatively, get a chain of LED Christmas tree lights from Amazon. (affiliate link)Return To Creative Ideas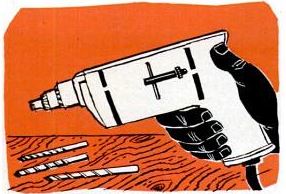 Key-keepers on electric drills. A magnetized pocket in the housing would eliminate the search for the chuck key every time you put it down. By A.R.Peery, Harlington, Tex. December 1957 You can buy a modern-day electric drill from Amazon. (affiliate link) Return To Creative Ideas
Built-in toothpaste-tube caps. Why not lengthen the neck of the tube and put the hole at the side? A few twists of a threaded collar would open the tube.By Bernard Gold, New York City.December 1957Return To Creative Ideas
A revolving electric fryer to eliminate standing by and turning food to prevent burning. It should lift off the motorized stand for washing.By Raymond A.Thomas, Burbank, California.December 1957Return To Creative Ideas
Christmas-scene stencils to make stained-glass picture windows. The black outlines of the stick-on stencil would be filled in with colored cellophane or plastic wrap. By J.Moon. New York City. December 1957 You can purchase Christmas Scene Stencils on Amazon. (affiliate link) Return To Creative Ideas
Ice melters for stuck cars. Short flexible pipes on a dual-tailpipe system would expel heat when the driver opened butterfly valves from the dash. By F.J.Morgan Jr., East Liverpool, Ohio. December 1957 I like this idea a lot. Having lived on the outskirts of Toronto, Canada for eight years, I was always trying to come […]
This idea for butter contained in a roll-on container like those used for deodorants would be ideal for those days in the back yard eating freshly grilled corn straight from the BBQ. Packed with butter, you would simply roll the butter on your cob and then enjoy it. By Mrs. David R Gurd, Girard, Ohio. […]
Eyeglasses with air pockets in extra-large, bright-colored bows would make them much easier for boatmen and water skiers to fish out if they dropped them into water. By Barry McFarren, Cromwell, Ind. August 1962 Perhaps a better idea that is available to purchase today from Amazon are floating, bright-colored straps that you can attach to […]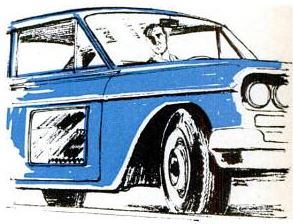 Curbside view on automobiles. If the lower portion of the right-front door were made of a transparent material then curbside parking would be much easier. By J.L.Schauer, Norwich, Conn. August 1962 Maybe not quite so important an idea these days with many modern vehicles having parking sensors and some can even park themselves for you! […]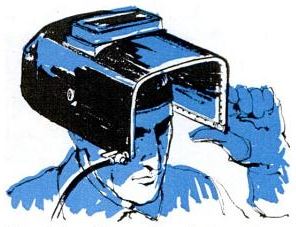 Here is an idea for air-cooled welding masks with a plastic hose perforated every inch or so around the outer edge. You would hook this up to a small air compressor. By R-O.Kaley, W. Carrollton, Ohio. August 1962 You can purchase a modern welding mask from Amazon, however, I don't think they come with air […]
Recessed toe holes built into a sport boat's transoms would make it unnecessary to carry along boarding ladders for swimmers and water skiers. making it that much easier to climb on board.By F.C.Tingle, State College, Miss.August 1962Return To Creative Ideas
Adjustable hinges to take washers with countersunk holes drilled off-center for a screw. You'd turn the washers to adjust the door up, down, or to the side. By D.Bousha, Jackson, Mich. August 1961 You can purchase adjustable hinges on Amazon. (affiliate link) Return To Creative Ideas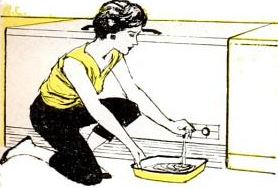 Drain-off plugs on chest freezers would enable you to defrost your appliance without bailing out water by hand while standing on your head.By Margaret Hageman, Stryker, Ohio.August 1961I don't even think modern-day chest freezers such as this one on Amazon have a drainage plug. (affiliate link)Return To Creative Ideas
Keyed electric circuits marked clearly for every outlet area in the house. So that almost anyone could tell which fuse needed replacement.By Ann Dickinson, Warner Robins, Ga.August 1961Return To Creative Ideas
Venetian blinds silvered on one side would be able to reflect the sun's heat in the summer. They would be painted a dull black on the other side to absorb heat in the winter. By L.S.Nickel, Carlisle, Pa. August 1961 These modern-day aluminum Venetian blinds are the nearest I could find although they're not painted […]
An automatic hammer operated by electricity and light enough for a workman to hold while nailing up siding and paneling or laying down roofing.Morris Roth, Duncan, Okla.August 1961You purchase the modern equivalent on this automatic hammer a nail gun on Amazon. (affiliate link)Return To Creative Ideas
Recessed cargo hooks in station wagons. Then you could lash down cargo to prevent it from shifting and sliding on turns or in hilly country.By D.F.Hammond, Alexandria, Va.August 1960Return To Creative Ideas
Adjustable footrests on all office desks. A swing-down bar like that on trains could have notches for the side pieces to adapt them for long or short legs.By F.A.Casey. New York City.August 1960You can purchase an adjustable footrest today on Amazon! (affiliate link)Return To Creative Ideas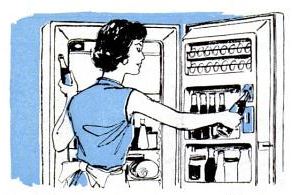 A built-in bottle opener on refrigerators. Since that's where the cold drinks are kept, why not have an opener handy, inset in the door?By MayBelle Schouz, The Dalles, Ore.August 1960You purchase a lovely beer fridge on Amazon, not sure that it includes a bottle opener though. Stick to cans or purchase bottles with twist-off lids, […]
A mower runs on bottled gas for better starting (no carburetor troubles, no carbon deposits) and once-a-season oil changing (reduced crankcase dilution).By S.Gilley, Terre Haute, Ind.August 1960These days, you'd probably be better with a rechargeable cordless lawn mower such as this one on Amazon. (affiliate link)Return To Creative Ideas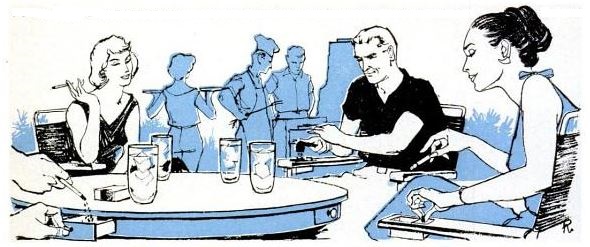 Patio furniture for smokers. Pull-out ashtrays could be inserted in the aprons of tables, and well holes could be opened in the arms of chairs.Katherine Riggan, Leola, Ark.August 1960You can purchase some pretty decent patio furniture on Amazon however if you're a smoker you will just have to add your own ashtray! (affiliate link)Return To […]
A powdered soap dispenser you could re-use on each new carton. Like a jigger dispenser for liquor bottles, it would pour out a measured amount.Carl Hirschfeld, Los Angeles.August 1959Return To Creative Ideas
A transparent mailbox. With a clear plastic box, you could see if the mail had been delivered. The box wouldn't rust or require painting – probably would need a regular clean though!Rick Megenity, Seattle.August 1959I found this transparent mailbox on Amazon, although at the time of writing there were no sellers available. Return To Creative Ideas
A backpack for outboard motors. Clamped to a board mounted on the pack, would make the awkward motor much easier to carry.R.M.Woodbury, Natick, Mass.August 1959Return To Creative Ideas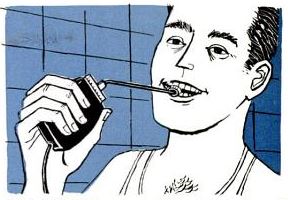 A toothbrush on a flexible cable that could be attached to an electric razor. It would clean your teeth with a rotary motion.W.R.Bottger, Oklahoma City.August 1959You can purchase a modern electric razor from Amazon, unfortunately they still don't have a toothbrush attached! (affiliate link)Return To Creative Ideas
Overhead towlines for use on bridges and in tunnels. A stalled car could be hooked on to the line and pulled out of the way fast.Alexander Morris, Mahopac, New York.August 1959Return To Creative Ideas
Roofing strips of double-faced, pressure-sensitive adhesive that could be placed under gale-loosened shingles to seal and anchor them securely. John Sellmann, Bloomsburg, Pa. August 1958 Could this roofing seal sold on Amazon be the modern-day equivalent? (affiliate link) Return To Creative Ideas
A car radio volume control governed by the speedometer. You'd get volume on highways where the road and wind noise are great, but no blaring in town. B.L.Broadwell, Towson, Md. August 1958 I think a lot of cars have this built-in these days. I know my car has a setting on the onboard computer display […]
A magnetic strip on vacuum cleaners that would pick up bobby pins and needles and other small metallic objects that might damage the mechanism when sucked up. Mrs. C.B.Earp, Winston-Salem, N.C. August 1958 Return To Creative Ideas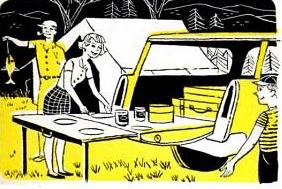 A double-purpose tailgate on station wagons. When lowered, it could be extended and supported to serve as a table on picnics or camping trips. Robert J.Rish, Takoma Park, Md. August 1958 Return To Creative Ideas
An escape-proof landing net. Pulling a lever would draw the net's outer, extremely flexible ring into the slotted handle to close the net on the fish. Joe Burke, Bay Port, Mich. August 1958 You can purchase landing nets very similar to this idea on Amazon. (affiliate link) Return To Creative Ideas
A padded motor-bike backrest, curved to fit the back. To provide a flat seat for a second rider, you would move it back and swing the curved side down. B.D.Galligher, Headrick, Okla. April 1963 I think I would just purchase some padded motorbike clothing such as these motorbike pants on Amazon. (affiliate link) Return To […]
Come apart BBQ grills with fewer cross-sections. The rods would lock at the ends for use but could be slipped out for easy and thorough washing J.D.West Newark, N.J. April 1963 This propane gas grill on Amazon has a grill with three different sections. (affiliate link) Return To Creative Ideas
Transparent aerosol cans for products used daily – shaving cream, toothpaste, insect sprays – so you could tell when they are about to get empty. by Mrs. R.J.Carpenter, Glenshaw, Pa. April 1963 I'm not sure about transparent aerosol cans but you can get transparent spray bottles, such as this one on Amazon. (affiliate link) Return […]
A curved push broom for sweeping large areas, as in schools or factories. Flared ends would keep sweepings from escaping and save over-lapping. Ernest Lecy, New Orleans. April 1963 I don't think anyone has created this idea yet, you can, however, get a rather wide push broom, such as this one available on Amazon. (affiliate […]
Headlight dimmer switches on the gear shift leavers of trucks. They would make it easier to lower lights on hills and curves where there is lots of gear shifting. Clifford R Kreiling, Palmdale, California April 1963 Return To Creative Ideas
Easy to clean stoves with no top burners. Why not embed electric wiring in one of the space-vehicle ceramics that can withstand high heat? – B.G. Holmes, Garden City, New York. April 1962 You can purchase a portable easy to clean induction cooktop these days from Amazon. (affiliate link) Return To Creative Ideas
Waterproof paper boots would keep a dog from tracking muddy prints through the house on rainy/muddy days. After his walk, you would slip them off and throw them away. – Daniel Lavie, Jerusalem, Israel. April 1962 Here are some modern-day waterproof dog boots on Amazon, however they're not made out of paper! (affiliate link) Return […]
A vise with holes in the tops of the jaws would enable pins to be inserted. Thus would aid in opening rings or spreading U-shaped pieces of metal by cranking open the vise. – Robert Tomb, Indiana, Pa April 1962 You can purchase a vise here on Amazon (affiliate link) however still no holes, it […]
This is an idea for a film-lock on a 35-mm camera. It could be set for either 20 or 36 exposure rolls. It would prevent you from unloading a 36 prematurely or tearing a 20 loose. – A.E.Ortner, New York City. April 1962 Return To Creative Ideas
This is an idea for a camping wagon where the front and back seats could be folded down. This would eliminate the need to unload the car when it comes time for sleeping. All your gear could be left in the rear of the vehicle and under the sleeping area. – Mrs. B.Clark, Sidney, Nebr. […]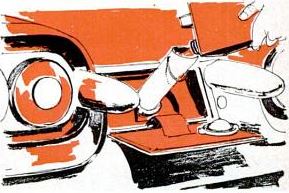 Pull out nozzles on cars so you could pour gas into the tank more easily. Often a fender gets in the way of pouring from an ordinary can. – Dean E. Harding, Guilderland, New York. April 1961 Here's a modern-day no spill gas can on Amazon (affiliate link) Return To Creative Ideas
Clamshell cases for tape recorders. With a mike fastened with a clip at the center, the open lid would become a parabolic sound reflector. – Walter Shelton, Amarillo, Texas.April 1961Return To Creative Ideas
Miniature air hammer the shape and size of a drill. It would be useful in tight or hard to get at places where a regular hammer won't reach. – H.M.Gilbert, Kalamazoo, Mich.April 1961Air hammers such as this one on Amazon are pretty compact anyway these days! (affiliate link)Return To Creative Ideas
Safer drill press with an on-off switch actuated by the chuck key. There would be an auxiliary push-button for fast emergency stops. – PFC J.E.Kaphusman, Dundalk, Md.April 1961Modern-day drill presses such as this one on Amazon (affiliate link) have improved safety immensely since 1961Return To Creative Ideas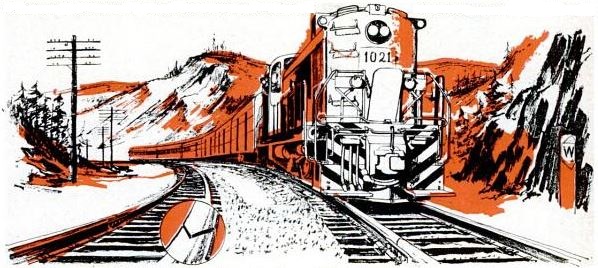 V-shaped expansion joints in railroad tracks would eliminate the familiar and annoying clickety-clack of trains riding the rails. – Warner Walker, Exeter, California.April 1961Return To Creative Ideas
A rain veil on umbrellas to save a lady's hairdo. The transparent plastic could be dropped inside the umbrella before closing and furling it. – D.J.Seigel, Flushing, New York. April 1960 This umbrella on Amazon (affiliate link) was the closest I could find to a modern-day match of this idea! Return To Creative Ideas
This idea for a belt that doubles up as a tape measure would make it always handy. Most men wear a belt that is a least a yard long. Why not print measurements on the reverse side? – M.J.Pelsang, West New Yorj, N.J. April 1960 I did manage to find a tape measure belt on […]
A milk bottle lid with a short spout. When the bottle was opened, it would fit over the top in place of the paper cap to make pouring easier. – G.A.Alexander, El Cajon, California. April 1960 Return To Creative Ideas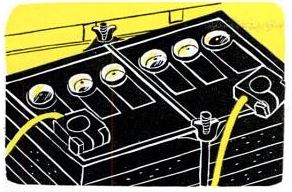 Transparent battery caps would enable you to see whether or not a car battery needed water without removing the caps and without soiling your hands. – Kay Gordin, Derby, Kan. April 1960 No need to add water anymore! You can purchase a heavy-duty, long-lasting car battery from Amazon (affiliate link) Return To Creative Ideas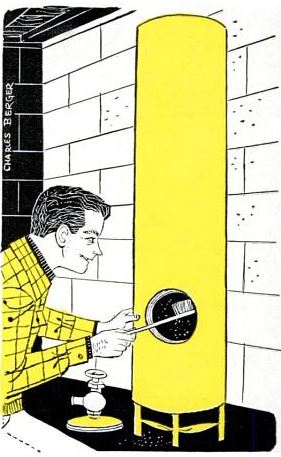 Hot water tanks you could reach into. Use a drain-off tap with a threaded end six inches in diameter. Unscrewing it would provide a clean-out opening. – Andy Vena, Philadelphia. April 1960 Technology has obviously improved somewhat since 1960! Here's a mini water heater on Amazon (affiliate link) Return To Creative Ideas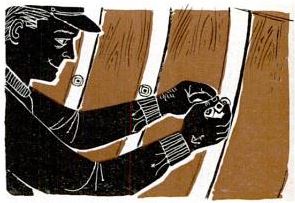 Aluminum-ribbed boats in kit form. The metal ribs could be bolted to plywood, eliminating screws that so frequently pull out or break off. – K.N.Croshier, Poughkeepsie, N.Y. April 1959 Return To Creative Ideas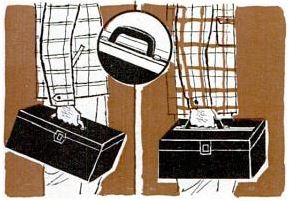 A toolbox with a sliding handle. To balance an off-center load, you could move the handle along tracks on the top and lock it in the new position. – Joe Burke, Bay Port, mich. April 1959 The modern-day equivalent would probably be something like this toolbox on Amazon (affiliate link) that simply has a handle […]
A tubular dip stick of clear plastic. You'd use it like a pipette to check the oil level: Insert it, put a thumb over the top and lift out a slug of oil for an easy reading. – A.P.Connor, Baltimore. April 1959 If you need a dip stick for your vehicle you can purchase one […]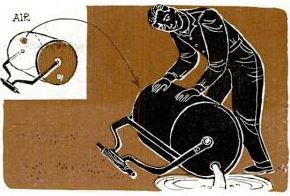 A lawn roller with two openings. A drain on one side and an air intake on the other, both with plugs, would make emptying a roller faster and easier. – Joseph P.Izzo, Providence.April 1959Here's a modern-day roller sold on Amazon (afilliate link)Return To Creative Ideas
A dual-purpose carport. With oversized plastic sprinkler hose on the enclosed side and along the roof, the carport could double as a home car wash. – Tom Rizzo, Brooklyn, N.Y. April 1959 Your best bet these days is probably a portable carport such as this one on Amazon and perhaps a jetwash also from Amazon […]
A transmission minder on the dash of an automatic-shift car to warn when transmission oil level is low. That fancy mechanism can cost plenty to fix. – J.M.Blasko, Savanna, Ill. April 1958 Return To Creative Ideas
A collapsible tot-toter for youngsters too big for a stroller, but small enough to weary easily on shopping tours or trips to the zoo. – D.L.Westphal, Rochelle Park, N.J. April 1958 The modern equivalent would probably be a foldable wagon such as this one sold by Amazon! (affiliate link) Return To Creative Ideas
A pot scouring attachment for an electric mixer. A disk with clamps to grip a steel-wool pad would clean even a burned pot in a hurry. – Mrs. Lawrence Frey, Brookville, Ind. April 1958 Although these days your probably best just with a decent dishwasher such as this one sold by Amazon! (affiliate link) Return […]
Food freezers with fur-coat storage space. Add a compartment at the side of an upright freezer, or a narrow drawer below a cabinet freezer. – Alden Smith, Newark, N.J. April 1958 Return To Creative Ideas
A station-wagon grille for use when the upper half of the tailgate is open. It would admit breezes yet keep youngsters or pets safely enclosed. – Mrs. L.L.Shook, Yorktown, Va. April 1958 Return To Creative Ideas
July 1963… Mirror helps level level. You could make an ordinary bubble level do a transit's work by clipping on this recently patented side mirror. To establish a true horizontal line at a distance, you'd watch the bubble's reflection while sighting along the top of the level, adjusting to center the bubble. With the mirror […]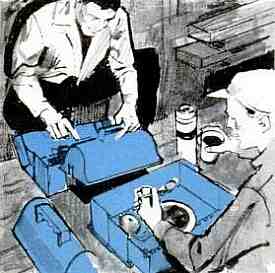 November 1963… You wouldn't have to grapple with a lunch-box meal if you carried it in this plastic box. After unhooking the domed top (with its clipped-in vacuum bottle), you'd let down the hinged sides to form a tray. Blocked-in ends would keep food from sliding and catch spills if the box were used as […]
October 1963… Suitable for one-man operation, this truck loader might simplify small-haul loading of gravel and similar cargo. The driver would maneuver his truck to push the scoop into the load, then winch the hopper-shaped scoop up and over the cab roof so it could tip its cargo into the truck. Go Back to Creative […]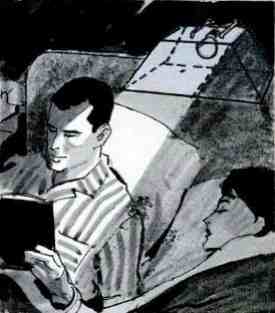 October 1963… By moving the hinged side panels of this bed lamp you could direct the light to either or both sides, or shade either side so one person could read while another sleeps. With both ends inward, the lamp would provide indirect room light. Spring balls would hold the flaps in any position. Here's […]
Here we have an early idea for a multipurpose tool – first published in April 1963. These days our local do it yourself stores are packed full of many, varied, multi-purpose tools… You could do a lot less interchanging of tools if you had this clever idea for a multi-purpose kit for a handyman job. […]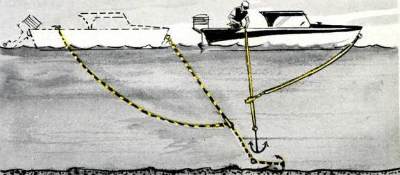 May 1963… Hitch hauls anchor from stern. You wouldn't have to clamber forward to cast or haul this anchor. Its line would let out from the stern through a Venetian-blind type of one-way slide. A fixed-length bowline tied to the slide would hold the anchored boat in the usual way. To haul anchor, you'd pull […]
An idea from July 1963 for high visibility fertilizer and weed killer. Dying the pellets with bright colors would mean that you could see where you'd been and not overlap on a lawn. by S.Johnson(Wesleyville)
October 1963… An air traveler might avoid excess baggage charges by checking on luggage weight when he packs. He could do it easily by turning the handle of this suitcase to engage a built-in scale. Turning it back would lock out the scale, allow the handle to support the weight of the packed case. A […]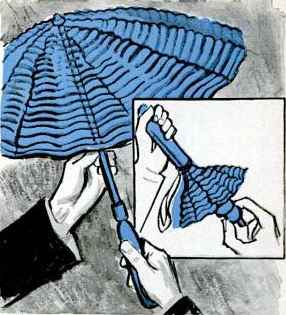 Here's an interesting idea for an everyday item. Umbrellas have been around for thousands of years. In modern times they are usually collapsible so that they can be fit into a handbag or satchel and then brought out quickly just as a downpour begins to start.With this inventive change to an umbrella, you'd be well […]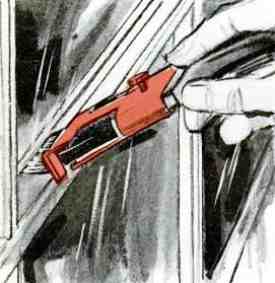 September 1963… To simplify painting of window frames, wall moldings and other trim, this brush guard would limit the length of exposed bristles and guide them along the edge of the wood. The slip-on sleeve and sliding, thumbscrew adjusted guide would serve also to confine the bristles and keep them from spreading.
May 1963…Glasses light your work. Tiny bulbs above the lenses of these spectacles and batteries in the earpieces would put light where you want it and let you use both hands.Opaque reflectors behind the bulbs would focus the light and keep it out of your eyes. Switches in the frames would let you use either […]
by Dean Himmelreich(Milwaukee) June 1963… Garden edging blocks with long stakes precast and protruding from one side would prevent the need for having to dig a trench and would also keep them from moving or getting kicked around your garden.
This idea from April 1963 might be useful for those who like to do a portage – fold in wheels that can help you carry your boat or canoe. The lightweight wheels can be carried in a small boat or canoe, making lake to cabin hauling or lake to lake portaging much easier. This idea […]
A HEAT-DISPERSING FAN flat enough to hang between the wall and radiator where heat gets pocketed. It would operate much as a car heater does.—A. K. Baldentceck, Kirkwood, Mo.
A tripod flashlight mount, adjustable for height, that would swivel at various angles and lock. This would leave both hands free for the workman.—H. G. Frank, Teaneck, N.J.
A non-tangling cord an on an electric drill and similar shop equipment. Why can't they be sold with the self-coiling wire now commonly used on telephones?—W. C. Fox, Nampa, Idaho.
Made short enough to fit inside a capped soda bottle, this plastic (or plastic-coated) straw would rise to sipping height when the bottle was opened. A bell-shaped float would supply lift, rising on gas bubbles. To sink the float when the bottle was being filled, the inventor suggests filling it with ice or sugar.
A scuba diver might travel under water faster and easier – and with less turbulence – on this snake-like craft. By lying on a frame and manipulating a crank, he'd undulate a rubbery sheet beneath him. The inventor claims the flexing would simulate the movements with which a fish or reptile propels itself.
June 1963… Flag signals shallow water. At low tide or in unfamiliar water, you'd navigate more confidently if you had a flag-ended feeler like this pivoted to the hull of your boat. Opposed springs normally would hold the arm upright. On contact with an obstruction, the flag would dip, alerting you to shallow waters and […]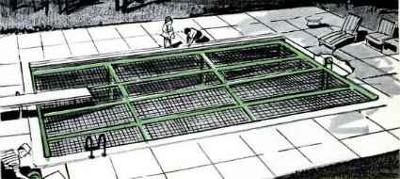 July 1963… A false bottom makes the pool safer. An electric motor, plus a system of pulleys and guide rails, would raise this protective net from its normal position at the bottom of a pool so that, in an emergency, anyone in the pool could be immediately brought to the surface. When unattended, the pool […]
June 1963…Electric basin heats water. A sink like this at your country cabin might give you hot water convenience on a boiler-less budget.The basin would nest in a tank fitted with a coil heater. Two taps would feed a mixer faucet from a single inlet, but turning the hot tap would route the flow of […]
April 1963… A curved push-broom for sweeping large areas such as schools or factories would make the task much easier. Flared ends would keep the sweepings from escaping and save you the need of overlapping the area you'd just swept.
August 1963… This recent invention might cut waiting in a plant cafeteria, say, by letting each diner set his own place at counter or table. He'd do it by flipping over a tray to turn up a fresh setting, turning the soiled side down to be scrubbed by a rotating brush inside. Clips would hold […]
July 1963… Convex saucer keeps the cup dry. A concave seat on the bottom of this cup would rest on a matching convex portion of the saucer, thus holding the cup in place. And if any coffee slopped out of the cup, it would stay in the outer valley of the saucer, leaving the cup […]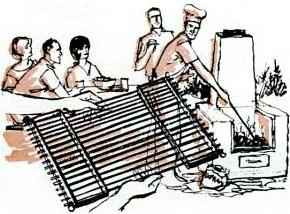 April 1963…This idea for a come-apart barbecue grill with fewer cross pieces makes cleaning much easier.The rods would lock at the ends for use but they can also easily be disconnected for cleaning or for moving a section with tongs in order to stoke the charcoal.Although after living in Canada for 8 years, I learned […]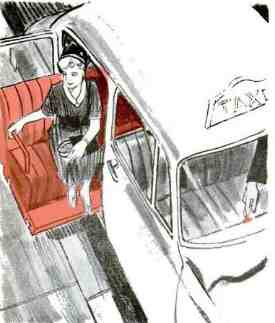 September 1963… Instead of squirming in and out of a taxi or other low-roofed car, invalids, oldsters (and even agile folks) could ride comfortably to or from the sidewalk on this patented slide seat. Flanged tracks under the seat and transverse rails on the car floor would let the driver move the motorized platform in […]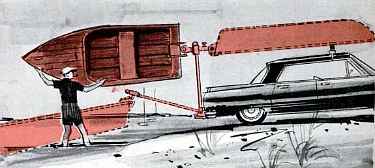 August 1963…Car hitch loads boat. Universal couplings on the ends of this boat-loading post would let one man lift his boat in toward the support and walk it around to the car-top cradle.Tipping the boat would drain it as he walked. To offload, he'd reverse the steps; and use the pole's reach to set the […]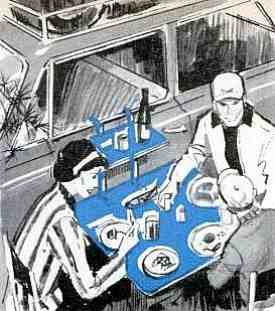 November 1963… You could enjoy more comfortable camping outside meals or quick roadside picnics if you carried a two-level folding table like this. Hooked to a car door, it would be firm and level even if the ground wasn't. It would open and fold away quickly and take up less space than a conventional table.
This idea from April 1963 is for a cap that measures powdered coffee. No more guessing what the right amount of instant coffee should be for a standard-sized mug. With this idea, your instant coffee might be even more instant and better-tasting via perfectly measured amounts. You simply replace the jar cap of your instant […]
December 1963… Fold-out legs would convert this double-duty dispatch case into a reading stand or lectern that might be useful to a salesman, club officer, or the like. To expose the legs, you'd slide out a side panel from between grooved ends, then move the panel to the upper side to use its ledge for […]
By Ben T. Sheppard Bricks with protrusions at the sides could be used as spacers. This would make it a lot easier for the amateur bricklayer to keep each course level.
May 1963… Brake spins tail-light beam. A brake light might flash a more urgent and unmistakable warning if it were housed inside this slotted, motor-drive sleeve. Applying either the foot or hand brake would cause the sleeve to spin and thus give an apparent whirling motion to the light that is bounced rearward by a […]
August 1963…Bottle bib catches drips. Looped around the neck of a bottle, this absorbent strip would stop drips on the way down and soak them up before they could stain a tablecloth or mar a tabletop.The slightly curved strip, cut from any absorbent fabric or paper, would be slotted near one end so the other […]
April 1963… A padded motorcycle backrest, curved to fit the back. To provide a flat seat for a second rider, you'd move it back and swing the curved side down. by B.D.Galligher (Headrick)
An extra set of windshield wipers on the inside of a car. Fog, mist or condensation that forms there could easily be wiped off. This would help prevent the driver's vision from being obscured. Wipers could either be operated manually or electronically. by C A Mallory (Conneaut, Ohio)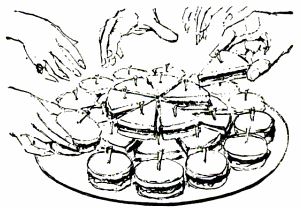 Edible toothpicks – spears of garlic-flavored pretzel stick of peppermint candy – for holding sandwiches together of for serving hors d'oeuvres. A.R. Dunham, Pasadena, California.
A shorten-at-will handle grip on one side of power lawn mowers so that you could get close to fences and other obstacles. It could telescope,  screw-in, or fold. W.P. Twigg, Oak Lawn, Ill.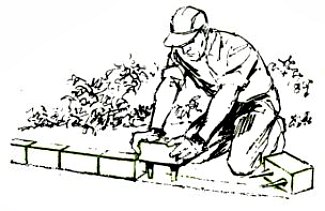 Garden edging blocks with long stakes precast on one side. Then you wouldn't have to dig a trench to prevent them from getting kicked around the yard. – Dean Himmelreich, Milwaukee.
Rear-window air deflectors on station wagons to keep out gales, yet allow ventilation throughout the car. The angle could be controllable by a switch on the dashboard. – John King, Ashkum, Ill.
Spray poles triggered at the bottom to operate an insecticide bomb held at the top. They would put you on target for spraying caterpillar tents or wasp nests in trees or under house eaves. – S. Smith, New Augusta, Ind.
High-visibility fertilizers and weed killers so you can see where you have been and not overlap on a lawn. Why not dye the pellets a bright color? S. Johnson, Wesleyville, Pa
A hide-away air conditioner to fit basement windows screened by shrubs. Cool air from a top vent would be ducted to a floor grille in the room above. A. A. Scott, Leonia, N.J.
Screw-in drain plugs for remote outboard tanks. Sloshing a left-over pint of gasoline out of that inch hole at the top of the can is for the birds. – H. Anderson, Cassopolis, Mich.
Children's roller skates with a clip or other fastener underneath to hold the clamp key. Loose keys, constantly lost, are just a nuisance. – Mrs. E. Ross, San Bernardino, California.
Bumpers with built-in hitches for trailer hauling. Add-on hitches are unsightly and make it hard to get a push in an emergency. F.M. Maguire, Savannah
Designed for a small sports car bucket seat or better still to fit between the two seats, saddled over the hump. – Mrs. Carol G. Donahue, West Andover, Mass.Although doesn't look too safe to me!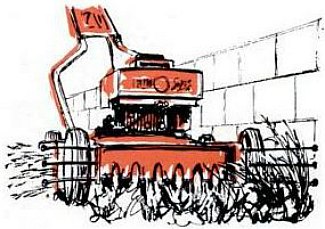 Trim that hard to cut long grass with extendable fingers at the sides of power lawnmowers. Tallgrass close to the house or garden beds would be guided into the path of the blade. – Dr. L.A. Russell, Newtonville, Mass.
Chemically treated netting, dyed green. Ideal for supporting vegetable vines. At the end of the season, it could be thrown on the compost pile to aid decomposition. G. Jorgenson, Tacoma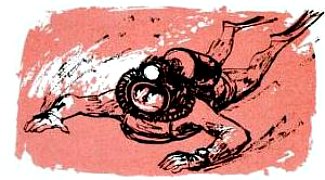 Is your dive too dark then you need this idea for underwater spotlights on skin-diving masks? A working light like a miner's lamp would be out of the way where it wouldn't impede the diver. – K.H. Schroeder, Westmont, N.J.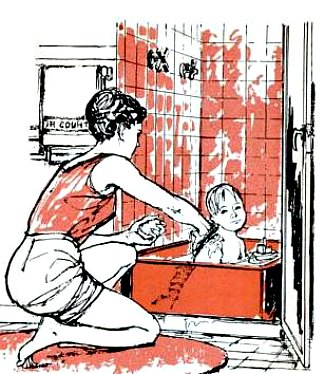 Let your kids have a bath in a shower with a shower bathtub – a deep, poly-plastic liner with a drain to fit inside shower stalls. Fine for bathing the kids in motels. hotels or summer cottages that don't have bathtubs. – T.B. Ellis, Trenton, N.J.
Spring-loaded nail feeders – as each nail popped into the final position, a shaft or anvil would drop on the head. Pound it down and it would set the nail too. – J. Myers, Sylvania, Ohio
Fountain stamps with porous letters and a refillable ink reservoir. Clerks who stamp hundreds of forms daily wouldn't waste motion swatting at a pad. – H. M. Monaghan, N.Y.
Quick-frozen lunches in disposable cartons – a boon to the sandwich detail. Pop them into the schoolbags in the morning and they'd thaw by noon. – Mrs. E. Miller, Lansing, Mich.
Light-reflecting trim on the sides of cars, designed to be part of the standard trim. Luminous plastic edging the chrome might do the job. – David F. Tufaro, Hartsdale, N.Y.
Broadcasting projectors for sound movies. Put a radio transmitter in the projector and a receiver in the speaker enclosure, and you would eliminate the need for a cable. – Charles R. DeKay, Grenada, Miss.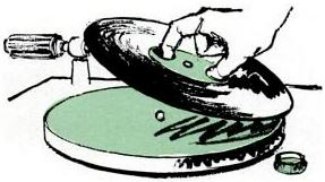 Finger grip holes at the center of a phonograph record. This idea would mean that when loading or unloading such discs the sound-track grooves would get less handling. – E.J.Monjack, Chicago Heights
Hunting and camping knives that carry their own whetstone in a recess in the handle. With this idea, you would never be caught in the woods with a dull blade. – W.L.Adams, East Syracuse, N.Y.
Bricks that have protrusions at the sides would mean that bricks could easily be laid with perfect spacing. This would make it much easier for amateur bricklayers to keep each course level. – Ben T. Sheppard, Columbus, Ga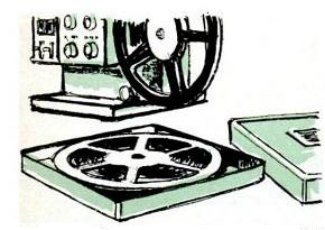 Movie reels in square cans for upright storage on shelves. They wouldn't roll, and they'd be easier to remove and replace than stacked cans. – A.R. Tanner Jr., Poughkeepsie, N.Y.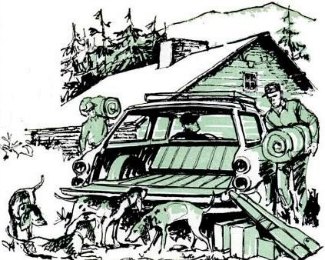 A motorized seat back in station wagons so you wouldn't have to struggle with latches and hooks every time you wanted to make extra load space. – Phil Glotzbach, Kettering, Ohio
Jam-proof drawers in built-ins and furniture. A strip of wood across the top at the rear would keep things from spilling out over the back. By Mrs. J. Shuppert, West Acton, Mass. November 1963 Return To Creative Ideas
Bricks with one rounded face for paving walks. Smoothly curved edges ad corners wouldn't snag a snow shovel and there would be less chipping of bricks. By Gary A. Larson, Kane, Pa. November 1963 Return To Creative Ideas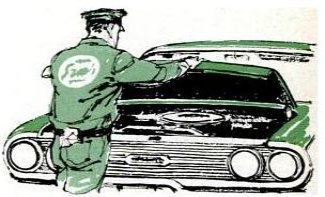 We need some device to prevent filling station attendants from whamming it down so hard that they chip the paint. By Ellis Thompson, Candler, N.C. November 1963 Return To Creative Ideas
Miniature TV tubes with a pilot at the base and at the socket would enable you to determine when to press them in safely. They're devils when you can't see their sockets – P. Legon, Malden, Mass And then came the transistor, and printed circuits! November 1963 Return To Creative Ideas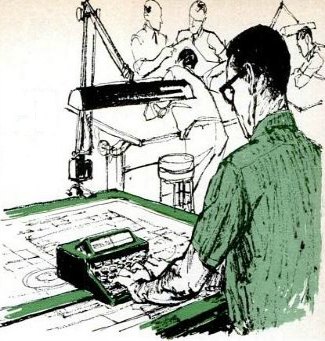 A no-platen typewriter for draftsmen that would roll on a drawing board. It would eliminate the printing of labels and instructions on drawings and blueprints – J.A. Defrees, Durhamville, N.Y. Perhaps not quite so useful in our modern-day world full of computers and Computer-Aided design software! November 1963 Return To Creative Ideas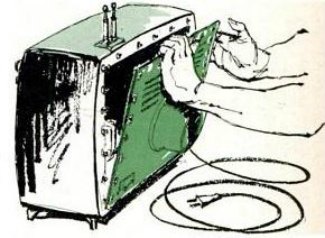 Gripper snaps on the back panels of television sets and on the front panels of washing machines would save on repair time and there would be no screws to lose. Not much use for modern televisions which are currently not much thicker than the back panel itself! But us there soemthing else this idea could […]
A slide-out index behind wall telephones would enable you to quickly take note of numbers you need to remember. Often there is no flat surface near such phones and no place to note frequently used numbers.Great idea for the time but not so useful now we live in a world of electronic gadgets and smart […]
Shoelace kits with yards of lacing, metal tips, and a tip applying tool. With several kids in the family, you never have the right length of lace. – R. Klingensmith, Monroeville, P.A. Although, personally, I think the modern velcro fasteners that you find on some kids shoes these days is a much better idea!
Basin shaped floor mats for cars would hold that grit from icy roads that you track into the car, and they could be lifted out and emptied easily. Makes cleaning the car at the weekend much easier! – S. Selsky, Massapequa, N.Y.
Hand warming snow blowers would put their hollow handles to work. As the tubing for the handles ends up near the engine why not pipe hot air through it? No more cold hand while clearing the driveway or side walk! – Marks Stephens, Manchester, Conn.
Submit Your Creative Idea
Do you have a creative idea of your own? If so would you like to share it with the innovation-creativity.com community?
If yes then simply submit your idea below and I will do my best to publish it on this page as soon as possible.
Many thanks, Martin.