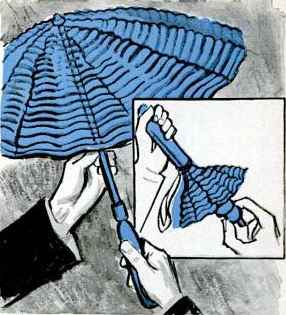 Here's an interesting idea for an everyday item. Umbrellas have been around for thousands of years. In modern times they are usually collapsible so that they can be fit into a handbag or satchel and then brought out quickly just as a downpour begins to start.

With this inventive change to an umbrella, you'd be well prepared for doubtful whether. The idea is for a collapsible umbrella that is even more potable than a traditional umbrella.

In its portable state its small enough to fit into a pocket. To use it, you'd pull the pleated, plastic canopy out of its case, slip the case onto a plunger, and work the plunger to pump air between the canopy seams. Telescoping joints would extend the handle.

Perhaps the design could be further extended so that it could double as a pump for everyday use – say to add air to your car tyres or to inflate a portable dinghy or football for the kids.