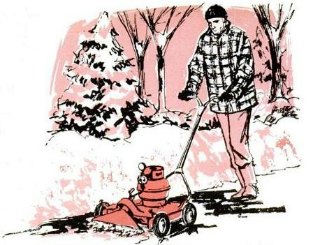 An oil-fired flame thrower for clearing ice from sidewalks and driveways. A flame close to the ground would melt thin ice and loosen the thicker ice.
By Ralph Monroe, Pontiac, Mich.
February 1963
Maybe a weed-killing propane burner such as this one from Amazon would have the same effect? (affiliate link)Although I guess it would take a very long time unless you have the smallest of driveways!
Very interesting idea though as it was one I often pondered when I lived in Canada. Clearing the driveway of snow was always one of my big dislikes. My idea was more a kind of plastic cover that warm water circulated through. I never got anywhere with it though!
Perhaps the best bet is the tried and tested snowblower such as this one listed on Amazon. Click the image for more details. (affiliate link)