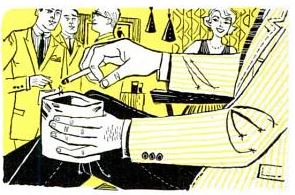 Foil pocket liners to keep coat pockets free of tobacco shreds and lint. They could be lifted out to serve as disposable ashtrays too.
By C.J.Berger, Plainview, New York.
December 1959
Not overly convinced with this idea, but maybe that's just me. Luckily I don't smoke so it wouldn't be an issue anyway.
For the smokers maybe just get a normal ashtray such as this one from Amazon. (affiliate link)