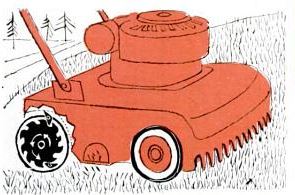 Ratchets in the wheels of rotary power mowers to prevent them from rolling backwards on slopes. A lever on the handle would release the brake.
By Roger Race, Saukville, Wis.
May 1960
Rotary Power Mowers
Rotary power mowers have become widely accepted in their field, and are currently the most popular equipment available for use with lawn care, for two reasons: they are relatively easy to operate and provide the operator with the highest possible degree of control over the mowing operation. This is especially important with grass mowing, since small operator errors can quickly lead to over mowing or mowing in the wrong place. Thus, in the course of a few minutes, a small operator error on the part of the operator may result in a large and unsightly lawn, requiring days or weeks to repair. In addition, even small changes in the condition of the lawn (i.e., such as dryness or wetness) can lead to operator error in the amount of the cut, or even a missed cut. As such, it is often important that the operator be able to control the rotary mower to ensure a proper cut is made.
You can purchase a modern-day power mower from Amazon…