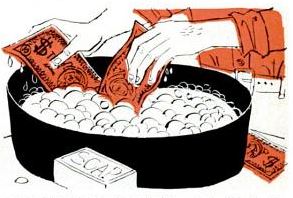 Washable paper money. If coated with plastic, bills could be given a sudsy bath as needed and there'd be no more "filthy lucre" carrying germs.
By Jonas Martin, San Francisco.
May 1960
This idea for polymer banknotes is now a reality in many countries. Having lived in both Canada and the UK I know that both those countries use plastic-type notes that can quite happily go through a wash cycle without any damage to them!
You can purchase plastic money on Amazon, believe it you can! Although it is for kids, no doubt good for their learning and development though!..