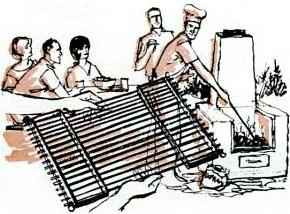 April 1963…
This idea for a come-apart barbecue grill with fewer cross pieces makes cleaning much easier.
The rods would lock at the ends for use but they can also easily be disconnected for cleaning or for moving a section with tongs in order to stoke the charcoal.

Although after living in Canada for 8 years, I learned from the Canadians that you can't beat just getting the grill has hot as possible to clean it. To super clean it, place a piece of aluminum foil to reflect even more heat!