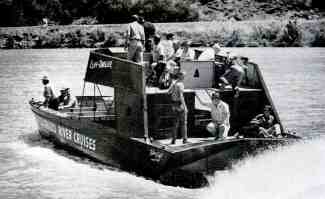 December 1963…

In water sometimes no deeper than three inches, this 42-foot boat will cruise at 25 m.p.h. with 55 people aboard.

Propelled by two Berkeley jet pumps powered by a pair of 409 Crusader engines, it makes daily runs down the Colorado below Moab, Utah, where the water is too shallow in places for prop-drive boats.

It's one of two cruise boats with jet drive built by Arnold Feller a professional boat builder in Grand Junction, Colorado.

The boat has a top speed of 38 m.p.h. with 240 gallons of gas and up to ten people aboard.