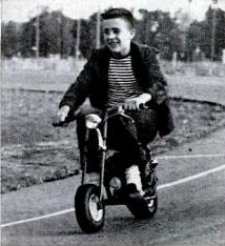 Back in April 1963, this midget scooter was built for transportation, fun or a combination of the two.

It was able to squeeze 125 miles from a gallon of gas and can speed along at 35 miles per hour while doing it.

Known as the Wren it had a 38-inch wheelbase, weighed 62 pounds, and used to cost $100. The clutch fitted to the scooter was an automatic centrifugal one and it used to be manufactured by Bird Engineering in Omaha.