A Modern Small Wheeled Bike (Photo Credit owenfinn16)
The small wheel bike was invented by British designer Dr. Alex Moulton back in 1963. At the time it was thought to be one of the biggest bicycle design changes in over seventy years.
The bicycle had sixteen-inch wheels and an ultra-rigid frame of oval tubing. Many of the modern-day folding bicycles have this kind of small wheelbase.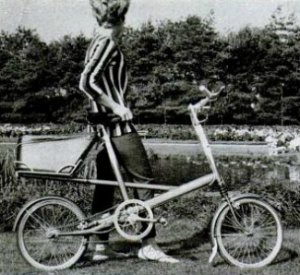 The bike had substantial luggage space and an adjustable saddle that could be adjusted to fit people of varying heights. The small wheels lowered the center of gravity and the long-wheelbase gave the bicycle increased stability.
Tires could be inflated to a rock hard sixty pounds to reduce resistance to roll and rubber springs were fitted to act as a suspension mechanism – smoothing the bumps out of the roughest of roads.
This bicycle was originally made by Moulton Bicycles Ltd who are still in business to this day and are located in the United Kingdom at Bradford upon Avon.
At the time they made five road and racing versions of the bike. Today they still specialize in the small wheeled bike and their tag line is "The Moulton Bicycle is the original full-suspension, separable, small-wheeled, high-performance bicycle, world-renowned for speed, efficiency, durability, and comfort.
Expertly engineered for over 50 years and handcrafted in England, these bicycles are the world's most efficient form of transport – designed for universal use, real performance and comfort." – Moulton Bicycle company
The original designer of the small-wheeled bike was Alex Moulton which included an excellent suspension, a unisex frame.
The modern day equivalent of this bicycle is lighter, stronger, faster and much more comfortable but remains easy to transport and extremely innovative.
For further details check out the Moulton bicycle site which can be located at Moulton Bicycles